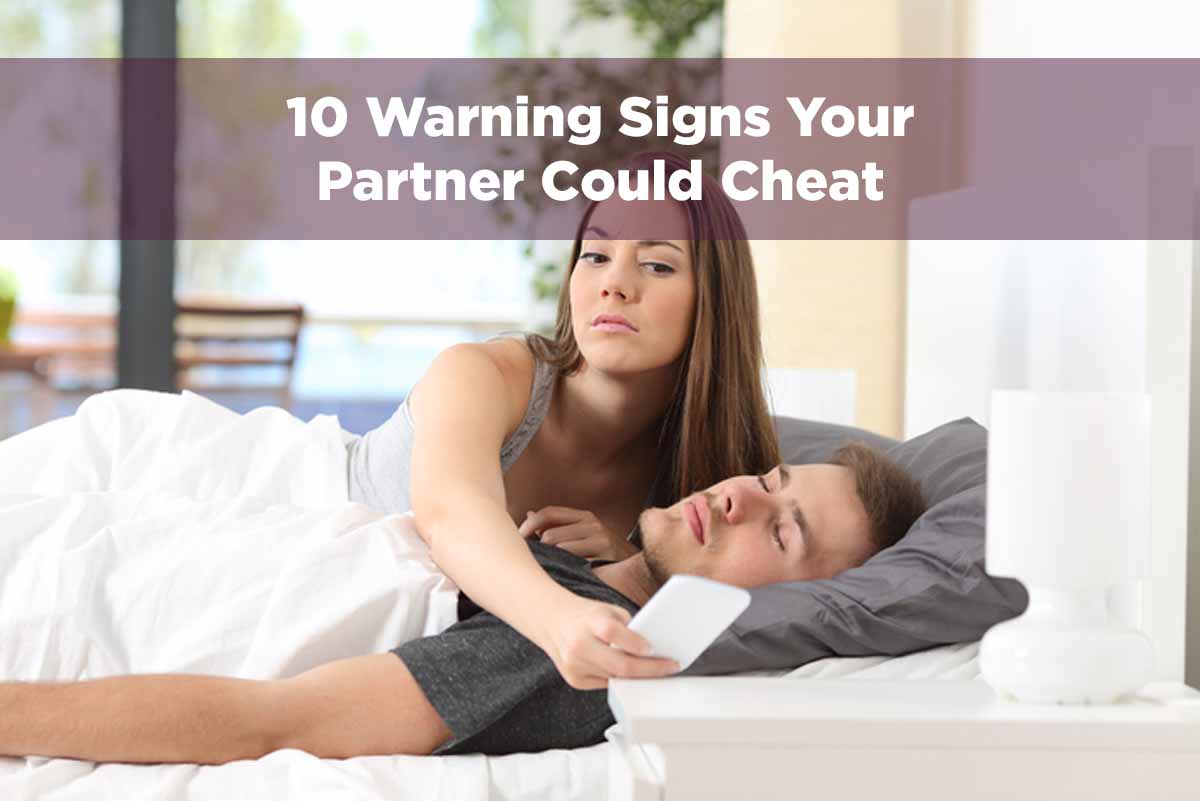 If you are worried that your partner my be cheating on you, be on the lookout for this telltale behaviour
Do you suspect your partner is cheating? It's heartbreaking to think the person you love most might be betraying you. But perhaps you are letting your imagination run away with you? Thinking the worst when your partner is actually completely faithful. So how can you be sure? Certain warning signs and behaviour from your partner can help you figure out if they are being untrue. If spot the signs early enough, before an affair has happened, you might both be able to change your behaviour and save your love. Read on to discover the warning signs of an affair.
1. Affection has stopped
The alarm is sounding in your relationship if affection dwindles away to zero. Because if you are in love and focused on one person, you naturally want to be loving and affectionate. Lack of affection can include lack of sex, but it also includes lack of hugs, holding hands, affectionate kissing, and doing small practical favours, such as your partner making a cup of coffee for you. If your partner's eye has wandered to somebody else, they are getting affection elsewhere so they may stop showing you affection.
2. You are going through life changes
Unfortunately, times of stress can mean your partner seeks comfort in somebody else's arms. It's devastating but true that stressful life changes, such as having a baby, caring for a dying relative or coping with a sick child can take your attention from your partner, meaning he/she is more likely to cheat.
3. They have a close friend of the opposite sex
Of course men and women should be able to be friends with no strings attached. And some people can. But in many cases, if your partner is confiding in a friend of the opposite sex (or same sex for gay people) this should set off warning bells. Emotional infidelity can be every bit as painful as a physical affair. And the lines between friendship and passion can sometimes be easily crossed.
4. You don't talk anymore
You've got to the stage where conversation isn't as easy as it once was, or if you're still talking, I could be that you no longer seem to talk about anything that's deep and meangingful. It could be that when you ask the same sort of questions you always have done, the answers you receive are lacking in detail. This could be a sign that your parnter doesn't want to give too much away for fear of being caught in a lie, or it could be a sign that they are drifting away from you.
5. Your partner is a risk taker
Impulsive people are more likely to cheat. They'll say that the affair 'just happened'. Risk takers can be exciting people to date but you have to be prepared for extreme behaviour. Don't let them off the hook if their behaviour crosses the line. Actions don't 'just happen'. You are in control of your actions and can choose whether or not to act in a certain way.
6. Your partner has a milestone birthday approaching
Few things can cause more of a crisis in a person's self esteem than the idea that they are getting older! So if your partner is about to turn 40, 50 or 60 be ready with reassurance that they are still in the prime of life. Because the cliché of an older person cheating with a younger one to try and regain their youth is all too common.
7. One of their parents cheated
If your partner has grown up in a home where a parent was unfaithful, this can make them more likely to cheat. Perhaps because this behaviour was tolerated by the other parent and became seen as normal. On the flipside, some people who see the devastation an affair causes as a child, will be less likely to cheat. You know your partner best.
8. Your partner is a drinker
Affairs usually begin under the influence of alcohol, when inhibitions are lowered. So if your partner regularly goes out and drinks to excess, the risk of them cheating is much higher.
9. You don't have fun
In a healthy relationship, you want to spend time together. Because it's fun to be together. If your partner stops making quality time for you, then it might be an indicator he/she is straying from the relationship.
10. They're protective of their smart phone/Laptop/Tablet
Most of us use social media and almost all of us have an email account, if not multiple accounts! Time spent online is at a record high and shows no signs of stopping, but if your partner freaks out if you pick up their phone, ask for their password or question who they're "chatting" to, you might want to ask yourself why. If they had nothing to hide surely they wouldn't care. In fact, they'd most likely WANT you to have access to put your mind at ease. Social media is now the biggest cause of relationship meltdowns, so although there's no harm in talking to people via social media, perhaps look out for secretive behaviour!
Are you looking for answers?
Whilst a psychic can't tell you for certain if your partner is cheating on you, they can provide guidance, so if you have relationship worries or questions, you could trying speaking to a psychic today.