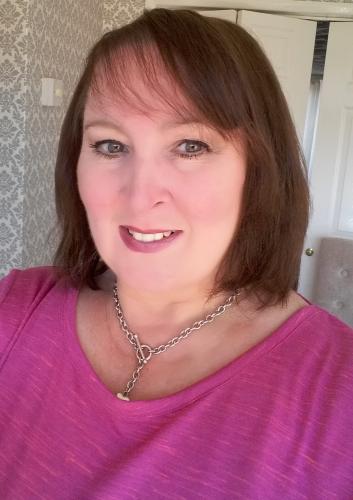 offline
PIN: 4311
Login or Regsiter to add Wendy to your Favourites
More Readers
Psychic Reader Profile: Wendy
Tarot Cards, Angel cards.
Hello, my name is Wendy and I am an intuitive Tarot reader. I have been reading Tarot cards for approximately 10 years. I have always been interested in divination and enjoyed receiving Tarot card readings occasionally. A Tarot reader told me many years ago that I had a spiritual gift and should take up the tarot myself, this surprised me at the time as it was not something that I had considered doing.
I learned initially, how to do palm readings just for fun and surprised myself at the accuracy of my readings. I bought my first set of Angel Cards and began giving readings to friends, again these were amazingly accurate, and so I bought more and more sets of Angel Cards. People started to seek me out to get a reading but I felt something was missing, even though I was enjoying the readings. I decided to buy a set of Tarot Cards and to learn the meanings. This was the missing link. The cards blew me away, their accuracy was outstanding and my readings got stronger and stronger. I found out through using the cards regularly, that they are NEVER wrong.
I use a variety of cards in my readings, I use Tarot, Psycards, Angel Cards and Lenormand. The cards complement and 'talk' to each other. I believe that the answers we seek are inside of us and Tarot guides us to bring that information out of ourselves.
I am passionate about the cards and I look forward to helping people with the guidance they seek.
What do you like most about giving readings to clients?
I like to connect strongly with my clients and I enjoy helping them to find the answers and guidance they are looking for with my cards. When a client openly shows their appreciation for their reading, my heart soars.
How would you say you are typical of your star sign?
I am a typical Leo...and proud of it!! A lion lies around sleeping all day until it is hungry, then it springs into life and doesn't stop until its belly is full, this is me to a tee ha ha! Leo's are generally passionate about what they are good at, I am deeply passionate about my readings and although I enjoy spending time alone, I come out of my shell when I am with a client. Like most Leo's I can be 'larger than life' when I am in the mood and I have a wicked sense of humour. Lions will defend members of their pride with their life, I would do exactly the same.
When do you remember being first aware of your gift?
I seemed to know things about people from a very early age. I had mental images of my children from when I was 13 years of age. I could see in my mind's eye a young girl with long brown hair and a little boy at the side of her with blond hair. A few years ago, I dug out an old picture of my children from when they were young and I realised the picture was the same as the vision in my head. Many years ago I sought help from my Angels and Spirit Guides because of severe depression. Suddenly, after asking for divine help, the experiences grew and grew.
What is your most memorable experience with a client?
I did a face to face reading with an older lady once. I could see lots of fluttering colours around her face. I asked her what they were but she hadn't a clue what I meant. I asked her repeatedly what the coloured fluttering might be, as I could see them throughout her reading, she insisted she had no idea. At the end of the reading, still seeing the fluttering, I asked if they could be birds, 'Oh yes' she said, 'my husband used to keep budgies in an aviary in the garden when he was alive'!
What other experiences or qualifications do you have that you feel compliment your work as a reader?
Me and another gentleman (who is a Medium), used to have a small business putting on Psychic events in pubs, clubs, workplaces parties etc. He was an experienced Medium but many people who had readings with the both of us, told me that I was even more accurate!
What is the most important thing for a person to consider when they decide to have a psychic reading?
Tarot and other card readings identify areas in your life which require the support and help the client needs to find their own answers. The cards do not tell you how to live your life, but give clarity to any issues, and they empower you to make the right decision for you.
Reader Calendar
This reader has indicated they will be logging on for us at the following times:
Pay by Phone
0905 789 1111
When prompted, enter pin 4311
Calls cost 80p per minute plus your network access charge. All calls recorded. 18+. Entertainment purposes only. You must be the bill payer or have the bill payer's permission. We may send free promotional messages. Customer services & marketing opt out 0161 607 3013
Pay by Credit/Debit Card
0161 864 8555
When prompted, enter pin 4311
Credit/Debit cards: £16.80 for 20 mins, £24.60 for 30 mins & £48.00 for 60 mins including vat. Terms and conditions apply. Money back guarantee on debit/credit card telephone readings (see help pages). Wallet readings available on this service.