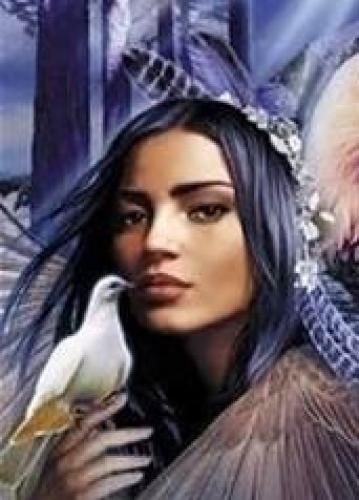 offline
PIN: 4381
Login or Regsiter to add Ambriel to your Favourites
More Readers
Psychic Reader Profile: Ambriel
Clairvoyance, clairsentience, claircognizance, clairgustance, Clairalience, Empathic, Angel Card , Angel Tarot Card, Psychic / Intuitive
I have been very blessed to accompany some wonderful people and animals over the years through their journey of Angel Therapy and also into realms of the Spirit world.
Communications from loved ones can manifest with me in many ways from feeling their presence, tasting their favourite foods / drinks to them showing me a special time in both your lives.
I encourage clients to be empowered in their own journey, by working with angel cards, colour therapy and spiritual healing and whatever mode that is shown to me during readings
As a child I wondered why I should have these experiences, as an adult I realise I am truly blessed. I learned not to question the thoughts, words, pictures and guidance I was given as they were not actually of my creating, but that the true message would mean so much more to those that had to receive them.
I tend not to filter during a reading as I also believe it is not my place to do so.
Every day is truly a gift when you can help clients and I appreciate that there is no other work like it, that can bring such peace of mind, contentment and sometimes guidance that can allow individuals to turn their life around.
I practice what I preach and work with my own guides and angels every day, which helps me remain strong, focused and connected.
What do you like most about giving readings to clients?
Helping them to realise how wonderfully empowering it is to be back in charge of their own lives.
Listening or watching for that ' light bulb ' moment when my client realises they are back in charge of decision making with gentle guidance either from myself through Spiritual Healing, or their loved ones that have passed sending warm, loving and encouraging messages.
How would you say you are typical of your star sign?
I am definitely a typical Taurean. Loyal and true friend, strong of character and more than a little stubborn at times.
When do you remember being first aware of your gift?
Aged 5, when we moved house, I was aware of a '' man's '' presence in our new home. I told my parents i could see him in a particular room in the house.
I was later told as a teenager that a man had in fact passed away in the same room before we moved in.
My brothers were a little amused at this, but my father then thought it would be a good time to inform us that he could quite easily communicate with spirit world as well.
What is your most memorable experience with a client?
I have been very privileged to share many unique experiences with my clients, all of which are special to each individual.
One such example would be a young lady, whose life seemed to be spiralling out of control after the loss of her mother, and the breakdown of her marriage.
When she called me, she stated she was '' told '' in her dream to contact me although, I had never spoken to her before.
We chatted for quite a while. She did receive the messages from her loved ones she was hoping for and I was delighted when she returned to let me know, she has took back control of her life, and career, and was now in a new loving relationship and remembers what it is to smile again.
Against all odds she had faith in her Angels and Spirit world and her life is so full of hope again...I was so proud of her efforts and willingness to be open during such a difficult time.
What other experiences or qualifications do you have that you feel compliment your work as a reader?
It has been said many times, that people and animals, seem to be naturally drawn to me, especially in times of crisis. They feel safe, and are never judged and being empathic I tend to tune into just what's going on with them which, has helped over the years being a Fully Qualified Holistic Practitioner and Reiki Master.
I also use the aid of chakra colour therapy in many areas of life.
I love being able to communicate with people and animals alike whether they are past or present and have used these skills in my own business in the past.
What is the most important thing for a person to consider when they decide to have a psychic reading?
Please remain open minded, it will also help during the reading. Pay attention if you feel 'drawn' to any particular reader.
More importantly, you have felt the need to ask for guidance at this time, please remember you have free will whether you follow that guidance.
This should help you feel more empowered about your own future
Pay by Phone
0905 789 1111
When prompted, enter pin 4381
Calls cost 80p per minute plus your network access charge. All calls recorded. 18+. Entertainment purposes only. You must be the bill payer or have the bill payer's permission. We may send free promotional messages. Customer services & marketing opt out 0161 607 3013
Pay by Credit/Debit Card
0161 864 8555
When prompted, enter pin 4381
Credit/Debit cards: £16.80 for 20 mins, £24.60 for 30 mins & £48.00 for 60 mins including vat. Terms and conditions apply. Money back guarantee on debit/credit card telephone readings (see help pages). Wallet readings available on this service.