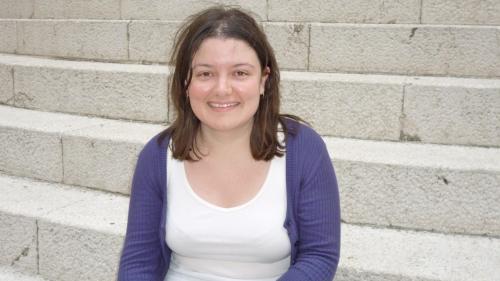 offline
PIN: 4083
Login or Regsiter to add Amy to your Favourites
More Readers
Psychic Reader Profile: Amy
Oracle and Angel Cards, Psychic, Clairvoyant, Clairsentient, Clairaudient
Hi I'm Amy! I'm very friendly and caring and my family and friends are extremely important to me. I like to read books in my spare time and love meeting and talking to people. I am a compassionate person who likes to get the most from life, and I'd like to help you get the most from your life too. I love animals and feel a strong connection to them. I believe animals deliver strong messages from spirit and are here to guide us. I have a background in working in the health and healing sector, I am a reiki healer and teacher and also a trained listener. I would love to help you with any difficulties you may be facing or with any questions you have about your life.
What do you like most about giving readings to clients?
I want to empower people to be the best versions of themselves. I love to feel that I have been able to help someone with a problem or issue. I am very empathic and care deeply for others. Sometimes in life, we can be struggling with a situation and can't see the woods for the trees. I like being able to help people to navigate the challenges of life's journey. I feel I have successfully found my way through some very challenging times on my own path. I have found speaking to an intuitive very helpful in trying to steer the way through difficult situations. I would love to be able to help you with any difficulties you may be facing.
How would you say you are typical of your star sign?
I have a vibrant and lively personality! Being a fire sign, I am very sociable and enthusiastic. In the past, I wouldn't have said I was a typical Leo, being quite shy and reserved growing up, but as I have grown and developed on my spiritual path, I feel I am more in tune with my star sign and soul essence.
When do you remember being first aware of your gift?
I became aware of the presence of spirit when I was a young child. I had lucid, recurring dreams which I feel were giving me messages related to past life experiences. I lost my granddad at a young age, we were very close and I have felt his presence around me throughout my life. I feel he has been one of my strongest guides and supporters. Over the years, I have honed this gift and am now in touch with more of my spiritual "team" - guides, archangels and ascended masters, who all have wonderful, empowering messages. As a result of honing my gift, I hope to help people by giving them valuable insights and guidance to empower them on their life path. I meditate daily which I believe helps greatly with a strong connection to spirit.
What is your most memorable experience with a client?
I remember working with a lady where I felt a very strong connection with one of her guides who I could clearly see, was a beautiful horse. She explained this horse had been a part of her family and had recently passed over to spirit. Her father also came through very strongly and I sensed a strong connection with my own father - it turned out that they shared the same birthday.
What other experiences or qualifications do you have that you feel compliment your work as a reader?
I am training to be a counsellor and feel I am very empathic and caring, with excellent listening skills. I am also a qualified Reiki master teacher and healer. I have always been a loyal friend and provided support to anyone I feel to be in need. I work with crystals to help with healing. I am passionate about helping people and do voluntary reiki at a hospital; I also help a lady who has had a stroke with her speech difficulties. Both of these roles require me to be very intuitive, having to sense where healing and help may be needed.
What is the most important thing for a person to consider when they decide to have a psychic reading?
It's important to think carefully about the questions you would like answered, in order to get the most from your reading. I hope to empower you to take the reins of your life and take charge of your journey. We always have free will and choices in life and it can often be confusing to think of what the "right" choice is. I hope to help you make the best choice for you at this stage of your journey.
Pay by Phone
0905 789 1111
When prompted, enter pin 4083
Calls cost 80p per minute plus your network access charge. All calls recorded. 18+. Entertainment purposes only. You must be the bill payer or have the bill payer's permission. We may send free promotional messages. Customer services & marketing opt out 0161 607 3013
Pay by Credit/Debit Card
0161 864 8555
When prompted, enter pin 4083
Credit/Debit cards: £16.80 for 20 mins, £24.60 for 30 mins & £48.00 for 60 mins including vat. Terms and conditions apply. Money back guarantee on debit/credit card telephone readings (see help pages). Wallet readings available on this service.