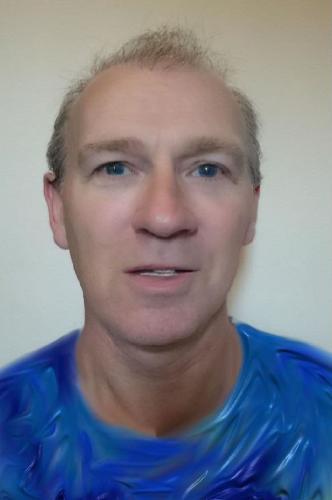 offline
PIN: 4882
Login or Regsiter to add Andy to your Favourites
More Readers
Psychic Reader Profile: Andy
Aura Readings, Tonality Readings, Clairaudient Readings, Clairsentient Readings, Card Readings, Pendulum Readings, Astrology Readings and Human Design Readings
As a lifelong student of the mind and psyche I have become a fully trained Hypnotherapist, Master NLP Practitioner, Silva Ultra Healer, Silva Mind Control Graduate and Practitioner, Rebirther, Breath Yoga Teacher, Counselor and Intuitive Healer.
I see and hear many things. I listen on many levels, especially to your self talk, the way you define your world and reality tunnel.
I use language to weave a web of healing and abundance.
What do you like most about giving readings to clients?
Enabling and Empowering People, dispelling fear and doubt. Moving people forward and being entertaining and inspiring at the the same time.
How are you typical of your star sign?
Leo's are the Zodiacal Parent. Your Growth and Maturation is Our Passion. As such we are known to have a love of drama as a means of personal exploration and growth. We see it in both in our own lives and in the lives of those around us. Because of this we often see 'plots' and 'story lines' unfolding long before the 'actors' and 'actresses' involved in the 'story' . I know to be dramatic and have learnt to maintain my bluntness with compassion.
Simply put, I will answer your question with the Truth, not what you want me to say. I will do so in a way that allows you to hear and act upon that truth, or to block your ears and run away.
When did you first become aware of your gift?
When I was 5 years old I announce to my parents 'I am a figbox of my own imaginodoes' ( I am a figment of my own imagination.) I have always known that this 'reality' is really just an illusion – as Shakespeare said:
All the world's a stage,
And all the men and women merely players:
They have their exits and their entrances;
And one man in his time plays many parts.
Until I was 7 I saw auras as a part of everyday life, once this natural faculty became unavailable to me I started my quest to understand how and why that had happened. I since learnt how to once again access this and many other 'hidden' senses.
Again, simply put, I, like you, am a thought form made manifest. By helping you change the thoughts you are thinking you like me find your world and your ability to function in it happily and successfully becomes a natural outcome.
What is your most memorable experience with a client?
Helping a client who had suffered from chronic depression for over 40 years, with a history of medication and institutionalisation to free himself from medication and depression and become a joyous, happy, productive and loving nurturing individual.
What other experiences or qualifications do you have that you feel compliment your work as a reader?
I have on multiple occasions found I have had conversations with and received messages to pass on to others from people who seemed 'normal' enough to me at the time but who, I found out later, were already passed over. While I have no formal training as a medium I seem to be able to reach those that have pasted if conditions are right.
What is the most important thing for a person to consider when they decide to have a psychic reading?
I can only answer in terms of what's important when choosing a reading with me.
The first question to ask yourself is this:
"Do I really want a truthful answer?".
From there the natural follow up question is:
"Do I want to be able to act on what I find out?".
Pay by Phone
0905 789 1111
When prompted, enter pin 4882
Calls cost 80p per minute plus your network access charge. All calls recorded. 18+. Entertainment purposes only. You must be the bill payer or have the bill payer's permission. We may send free promotional messages. Customer services & marketing opt out 0161 607 3013
Pay by Credit/Debit Card
0161 864 8555
When prompted, enter pin 4882
Credit/Debit cards: £16.80 for 20 mins, £24.60 for 30 mins & £48.00 for 60 mins including vat. Terms and conditions apply. Money back guarantee on debit/credit card telephone readings (see help pages). Wallet readings available on this service.