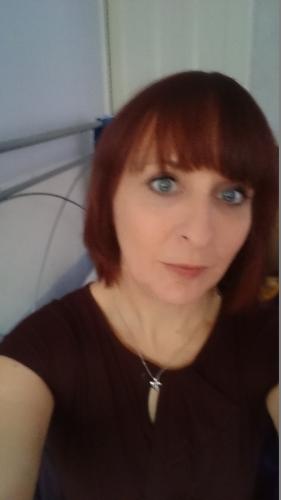 offline
PIN: 4245
Login or Regsiter to add Gill B to your Favourites
More Readers
Psychic Reader Profile: Gill B
Intuitive, spirit guides, tarot, Oracle cards
Hi, my name is Gill, thank you for visiting my profile. Primarily I use tarot cards and Oracle cards, which I read intuitively with the help of my guides.
I have been intuitive for as long as I can remember but my 'official' journey started about 18 years ago when I began a course of study in psychic development and discovered that I was able to see and hear my guides and to tune into people's energies. This allowed me to read cards intuitively and to pass on messages from spirit.
My studies have continued since then in the fields of spirituality, health and healing and my fascination has just grown and grown. I have worked as a therapist for much of this time and for three years owned a therapy centre where I treated clients, carried out readings and sat in a mediumship circle.
In May this year I experienced a huge shift in my abilities when I suddenly began channelling and began to communicate with people who have passed over, I wouldn't call myself a medium but on occasion people do pop up during readings to pass on messages or just to say hello. I also began to be given messages in the form of numbers and am developing strong skills in numerology which I also utilise in readings.
What do you like most about giving readings to clients?
It sounds a little corny but I just love to communicate with and help people. Whether it is to help to see things more clearly, to deal with challenges or concerns or to help them to move forward in their path, I find genuine fulfilment in making people feel happier and more empowered so that they can take control of their lives and follow their path.
I am very honest during readings as I believe that the messages that come from spirit are for our highest good, even if they are hard to hear at the time.
How would you say you are typical of your star sign?
II am a Pisces which makes me highly intuitive and able to tap into the emotions of others. I am also Libra moon which means that I like balance and fairness. A combination of these two signs makes the happiness and fulfilment of the people I interact with extremely important to me and makes me extremely supportive and nurturing by nature.
When do you remember being first aware of your gift?
I think I was about 3 or 4 years old when I had the first experience of this. I was at the barracks in my home town and was playing with three other children while my parents were occupied elsewhere. Looking back they were strange children wearing very odd clothes but as a young child you don't think about such things. I heard my parents calling me and went back to them and told them about the other children. The man with my parents told me that there were no children there and I became very upset insisting that I had definitely been playing with them and described them. Years later my mum told me this story and I remembered it vividly and she told me that the man had told them that the children I had been playing with had been killed during the war and haunted the barracks but he had never experienced them being so clear of having interacted with people before, they usually were seen and then drifted away.
What is your most memorable experience with a client?
There have been so many; every reading is beautiful n its own way. One of the most unusual and personally profound began the night before the reading when I dreamt of someone I didn't know but I felt was a close friend. It was an incredibly strong bond with this person and it was like we had known each other forever. The next day I was at work and had someone walk in for a reading and it was the person who had been in my dream the night before. I did there reading and at the end the lady started crying and said she had felt the most beautiful energy throughout and told me she didn't understand but it was like I just knew her and she knew me. I told her about the dream and she said she totally believed it because the shares energy of the reading had been so profound. She asked me if there had been a wolf in my dream and I told we that there had and she said that she had had the image of it really clearly and that was the catalyst for her coming for a reading. She had arrived feeling so unhappy and left feeling not only happier and with more clarity but with an incredible belief that she was being guided and supported on her path. It was so beautiful to see the change in her.
What other experiences or qualifications do you have that you feel compliment your work as a reader?
I have worked s a therapist for many years and have extensive knowledge of herbalism, homeopathy and nutrition...although this may not seem particularly relevant it has provided me with a holistic view of how the soul, the mind and the body interact to give us messages. I am also a reiki master and energetic healer.
What is the most important thing for a person to consider when they decide to have a psychic reading?
I feel that it is important to follow your intuition when selecting your reader and to be open to the messages that spirit provides. I know myself that I have spoken to readers hoping to hear something and been disappointed to not hear what I wanted to but in time I have seen that what happened instead of the thing that I thought that I wanted has been so much better for me than my original hope. Spirit knows more than we do and sees our path more clearly.
Pay by Phone
0905 789 1111
When prompted, enter pin 4245
Calls cost 80p per minute plus your network access charge. All calls recorded. 18+. Entertainment purposes only. You must be the bill payer or have the bill payer's permission. We may send free promotional messages. Customer services & marketing opt out 0161 607 3013
Pay by Credit/Debit Card
0161 864 8555
When prompted, enter pin 4245
Credit/Debit cards: £16.80 for 20 mins, £24.60 for 30 mins & £48.00 for 60 mins including vat. Terms and conditions apply. Money back guarantee on debit/credit card telephone readings (see help pages). Wallet readings available on this service.