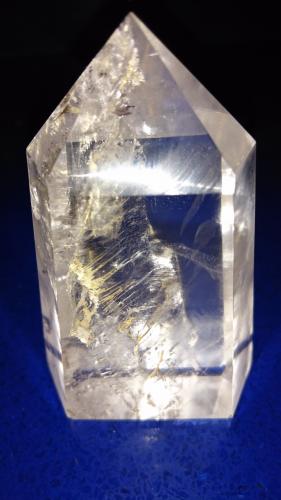 offline
PIN: 4080
Login or Regsiter to add Hope to your Favourites
More Readers
Psychic Reader Profile: Hope
Non traditional Tarot, Oracle cards, Heavenly guides, Angelic Crystal cards, Psychic Art, Aura cleansing, Christ centred healing meditation cards, Vibe and Guide cards, Clairsentience, Chakra balancing and clearing, Reiki, Grounding and Protecting.
Hi I am Hope, and I am a holistic therapist, with a a strong sense of clairsentience - clear psychic feelings. I am qualified in Reiki, and often combine readings with various therapeutic techniques, should a client require them. These can help to relax individuals, and give them the tools to use when things are not always going according plan. This is part of the complimentary therapy which I believe is a great way of having an all round reading session, and become more equipped in your daily life.
I have been directed by the higher powers to get back into assisting individuals by giving them readings over the phone, in a safe non-judgemental manner.
Ultimately we are all authors of our own destinations, I am here to see how you can help to help yourself by letting you know what can be possible. At the end of the day, the sky really is the limit!
I have rejected my gifts before and always been drawn back to them, I have found a happy equilibrium now which balances my life with readings, and various holistic techniques. My life without this is empty, I am here and have been lead to assist others through spiritual lead readings.
What do you like most about giving readings to clients?
I enjoy assisting individuals to gain clarity in finding their own pathway, the best thing is knowing people are made aware of their own power, and how to use it, and to do what they were born to be.....great individuals! It is great when people say yes they can relate to the reading, but the icing on the cake is when they say yes I know, but just needed confirmation and a bit of a push in a specific direction. People empowering is definitely part of my motto!
How would you say you are typical of your star sign?
I am a Taurus, and yes I am very much like my zodiac sign I am highly reliable especially if I believe you are being honest, I am practical and love to get things done, my glass is always half full, and never half empty. If you need something done I look for a solution even if the odds are stacked up against a situation. I am ambitious but never at the expense of another person, I don't like cut throat business practices, as there is more than enough for everyone everywhere.
When do you remember being first aware of your gift?
I have always been aware of my 6th sense but probably more after my father passed away, I was only eight years old and felt as if my whole life came crashing down, in some ways this did happen. But having a spiritual connection with my dad, enabled me to grow as a person, learn to be more spiritual and strengthen all my psychic abilities. He has always been my main spirit guide, amongst the Angel Guides and other heavenly beings.
What is your most memorable experience with a client?
This started off with someone just getting readings done and having a general chat, in a coaching like style, 'Elizabeth' had very low self esteem and had buried her ambitions, and creativity. After having spoken to 'Elizabeth' for a few sessions and doing various types of readings/therapies over a period of time, 'Elizabeth' finally embarked on a secretarial course, is more focused and ambitious, has started saying no to others (good for her not the others!) is very assertive and has started to love life again. Elizabeth also applied for a new job, and got it despite coming across some hurdles. Elizabeth did all this on her own, but she said Than you' to me for helping her on her way. I didn't realise how much of an impact our sessions were having until she said these two simple words.
What other experiences or qualifications do you have that you feel compliment your work as a reader?
I am a good listener, impartial and open-minded, I have used many techniques and am comfortable in using Reiki, along with Crystals, Angels and Guides that I am familiar with connecting with to help me. I am a conduit for the higher powers and am lead by them in whichever way I find drawn to.
What is the most important thing for a person to consider when they decide to have a psychic reading?
Always know that no matter what cards come up, at the end of the day you are the one that can really make the magic happen in your life. The readings and sessions are a guide, if you truly listen and open up your heart to possibilities you will be drawn to the things that give you whatever you are searching for. No person place or thing has any control over you, unless you let them.
Pay by Phone
0905 789 1111
When prompted, enter pin 4080
Calls cost 80p per minute plus your network access charge. All calls recorded. 18+. Entertainment purposes only. You must be the bill payer or have the bill payer's permission. We may send free promotional messages. Customer services & marketing opt out 0161 607 3013
Pay by Credit/Debit Card
0161 864 8555
When prompted, enter pin 4080
Credit/Debit cards: £16.80 for 20 mins, £24.60 for 30 mins & £48.00 for 60 mins including vat. Terms and conditions apply. Money back guarantee on debit/credit card telephone readings (see help pages). Wallet readings available on this service.