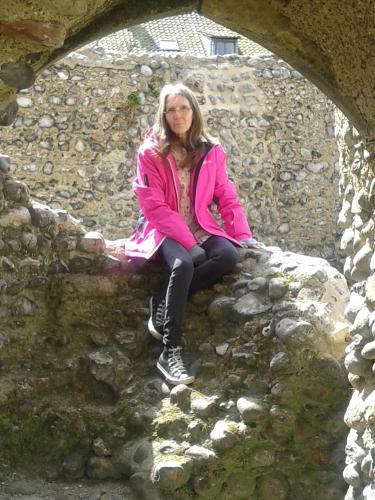 offline
PIN: 4336
Login or Regsiter to add June to your Favourites
More Readers
Psychic Reader Profile: June
Fairy/Angel/Dragon/Sacred Traveller/ Keepers of the Light Oracle Cards, Wolf life Path Cards, Animal Spirit Medicine Cards, Wildwood Tarot Cards, Psychic Clairvoyant, Clairaudient, Clairsentient, Consciousness Connection, Reiki/Energy/Shamanic Connection
Hello I am June. I have always been drawn to the spiritual, magical and mystical things in life and love animals and nature which I feel I have a deep connection to. I have consciously been on my own path of spiritual and personal development for around 20 years now, starting with me suddenly deciding to learn massage, which came as a bolt from the blue one day when I was stood doing the ironing! From there I was led to Spiritual Healing, then Reiki which led me to taking Psychic Development classes...then onward over the years, adding more therapies and healing modalities to my therapist 'toolbox'. After a surprise shape-shifting experience, some years ago now, I was guided to become a Shamanic Practitioner and connect with spirit, ancestors and animal spirits/energy often and journey to help people when they are feeling 'lost'. The Oracle and Tarot Card Reading came after a few years of pushing and prodding from spirit guides and friends in the psychic/spiritual world - eventually I gave in and for the past few years I have been giving readings privately and at spiritual/psychic events. I love reading for people, as I see it as another form of healing in a way, often bringing events, memories, emotions and issues to the fore, to allow them to be cleared and so healed, allowing people to move on with greater confidence or clarity. I am passionate about energy healing and connect on an energetic level with people, as well as through my guides and theirs. Kindness, compassion and friendliness is what I hope I show to others, which along with the guidance of the cards and spirit makes for an interesting and illuminating reading. Thank you for viewing my profile, I hope to have the opportunity to read for you.
What do you like most about giving readings to clients?
I like to help people, bringing clarity where there may be confusion. We all have times where we feel a little 'lost', not sure which direction to take when faced with a crossroads in life, and readings can illuminate issues that need to be addressed to allow people to move on. I like to empower people, to allow them to stand in their own light and move forward with clarity and confidence.
How would you say you are typical of your star sign?
Capricorn is an earth sign and I am down to earth in my approach to things generally. Being grounded is important when spiritually ascending...the deeper your roots the higher your consciousness and vibration can go. Also I am very in tune and connected to nature. Capricorns are known to be good at organising and are often managers...good qualities when needing clarity and straightforwardness.
When do you remember being first aware of your gift?
As a child I was always talking to 'imaginary' friends, I had a great imagination and often travelled in my mind, which now I know as journeying in a shamanic sense. As a teenager I would go into trances with friends and drift and see things. I have always had the ability when reaching out to feel the energy of things before physically touching ....it was many years later that I discovered that not all people did that.
What is your most memorable experience with a client?
When a message from a loved one came through the cards to a lady. She had just been thinking about her husband and you could see the love and pleasure of the connection in her eyes. She was moved and so was I. There had been many instances where passed pets have wanted to make themselves known too, for some reason animal spirits come to me to be remembered and share the memory of their unconditional love.
What other experiences or qualifications do you have that you feel compliment your work as a reader?
As a Complementary Therapist, Reiki Master and Shamanic Practitioner I have experience of relating to people and putting them at their ease. If people are relaxed and feel comfortable then they can fully enjoy their reading. Through my shamanic spirit work I find that I can connect well with people to 'see' what may be going on for them, this can help bring more clarity to a reading.
What is the most important thing for a person to consider when they decide to have a psychic reading?
That they probably already know the answer themselves, but need a little help in uncovering it. Readings can be useful for guidance but each person is an individual, their own interpretation is the right one for them and each of us has the free will to choose our own path in life.
Pay by Phone
0905 789 1111
When prompted, enter pin 4336
Calls cost 80p per minute plus your network access charge. All calls recorded. 18+. Entertainment purposes only. You must be the bill payer or have the bill payer's permission. We may send free promotional messages. Customer services & marketing opt out 0161 607 3013
Pay by Credit/Debit Card
0161 864 8555
When prompted, enter pin 4336
Credit/Debit cards: £16.80 for 20 mins, £24.60 for 30 mins & £48.00 for 60 mins including vat. Terms and conditions apply. Money back guarantee on debit/credit card telephone readings (see help pages). Wallet readings available on this service.