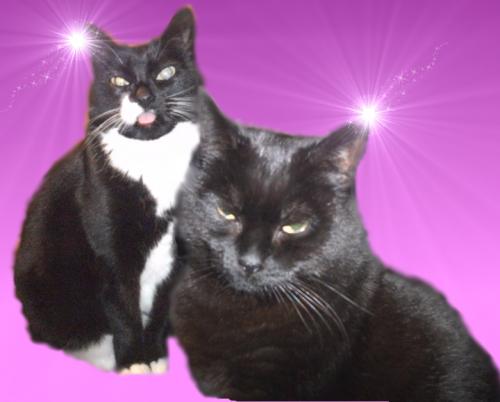 offline
PIN: 4035
Login or Regsiter to add Kat to your Favourites
More Readers
Psychic Reader Profile: Kat
Intuitive tarot
Hello! I'm Kat - it's been a nickname for years due to my love of cats. I have a lot of experience reading tarot, and use both the cards and psychic intuition. I've used the cards to ask many questions, to gain insight into situations, to predict the future, and I'm sure much more. When I was first introduced to tarot through receiving readings myself, I was always terrified that I would "pick the wrong cards". It's been an incredible journey to go from someone who was convinced that they would pick the wrong cards for their own reading, to the person I am now...who trusts the cards 100% and KNOWS that the right cards will always appear for your question or situation.
What do you like most about giving readings to clients?
It's fantastic to see situations becoming clearer, and seeing the change that occurs in people when this happens. But I think what I like most is having someone who feels that hope is lost asking for a reading...and seeing hope restored, and hearing a smile in their voice by the end of the reading. And of course I love hearing feedback regarding guidance and predictions on future based situations....the accuracy of the cards never ceases to amaze me!
How would you say you are typical of your star sign?
Oh I'm very strong willed, and can have a sting in my tail - I've learned to be more in control of this over the years happily. I can be secretive, and definitely feel things very deeply. I am quite a contradiction at times - sometimes wearing my heart on my sleeve and other times hiding feelings from everyone. But on a plus side, I am very passionate about everything I turn my hand to (hence my love of tarot) and once a friend - I'm a friend for life.
When do you remember being first aware of your gift?
I've always asked questions for as long as I can remember, and often "knew things" as a child - including telling my dad that the car was going to break down on the way home from a day trip when I was about 7! Dreams as a child (and adult) were very often vivid, and I learned through intuition and time to understand these more.
What is your most memorable experience with a client?
This was a face to face reading with a lady who was clearly struggling with many emotional issues and turmoil. Through the cards and my own intuition I saw that the major issue was addiction - she had never felt able to open up to anyone about this and had kept it a secret for many years - There was a huge part of me that was hesitant about saying what I was seeing and feeling, but I trust the cards, and trust my guides, so gently told her what I was seeing. Suddenly her barriers came down, the "terrible secret" (her words not mine) was revealed, and the world didn't suddenly come crashing down as she feared it would. I was able to offer hope, guidance, and was able to guide her to the correct resources to find help and support. Her life is very different today to that first time we met over a reading.
What other experiences or qualifications do you have that you feel compliment your work as a reader?
Throughout my life I have battled many different situations including depression, addiction, and other issues. From about the age of 8, I had a real struggle with seeing how I "fitted in" and always felt like an outsider. I guess I was one of those people who constantly asked "why?" and I only found my answers when I was guided to the spiritual path I have chosen to walk. It has granted me freedom and given my life meaning, happiness, and fulfilment. I know now that there is ALWAYS a purpose to life even if we are unable to see it at that particular moment. Probably due to my own life experiences, I can empathise with many emotional issues, and I'm a good listener. I am always prepared to stand in someone else's shoes and see things from their perspective. I think it's important to remember that we are all different, all walking our own individual paths. I am non-judgemental, and accepting of other people's beliefs, choices and opinions. One of the most important things I have learned through using intuition and cards, is to be accepting and understanding of your situation, and give guidance and insight that is right for YOU.
What is the most important thing for a person to consider when they decide to have a psychic reading?
Sometimes the answers or guidance you may receive requires time to "sink in" and "digest". Whilst we sometimes receive confirmation of current plans and thoughts, there are times when the guidance given may be unexpected. It's important to be open minded, and to take information away to ponder. I often find that an initial spreads of cards will highlight something that needs looking into a little deeper, so never be afraid to ask questions if you would like to ask a more specific question, or if you are unsure of the guidance a reader has given you.
Pay by Phone
0905 789 1111
When prompted, enter pin 4035
Calls cost 80p per minute plus your network access charge. All calls recorded. 18+. Entertainment purposes only. You must be the bill payer or have the bill payer's permission. We may send free promotional messages. Customer services & marketing opt out 0161 607 3013
Pay by Credit/Debit Card
0161 864 8555
When prompted, enter pin 4035
Credit/Debit cards: £16.80 for 20 mins, £24.60 for 30 mins & £48.00 for 60 mins including vat. Terms and conditions apply. Money back guarantee on debit/credit card telephone readings (see help pages). Wallet readings available on this service.