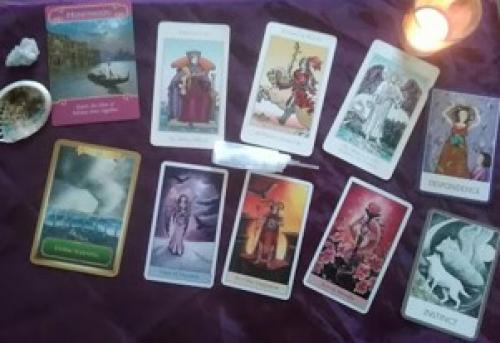 offline
PIN: 4540
Login or Regsiter to add Kerry Ann to your Favourites
More Readers
Psychic Reader Profile: Kerry Ann
Tarot - Angel Cards - Oracle Cards
I have been giving readings on a professional level for a number of years. With so many years of experience and practice I now can use many different tarot decks and oracle cards.
I found that each deck carries a different energy some give more of a gentle approach others give more of a direct approach. I found this has been beneficial for my clients as we all have different ways we like to receive the messages. I class my cards as my family and they have been a great source of information and support for me and the clients I have read for.
I also have and still do a lot of workshops and home study, I like to keep my readings fresh and keep on improving my abilities and the connection with my cards. I found over the years, the questions you do ask the cards, can make a big difference and give you more clarity towards your situation when you word it correctly. There's always something to learn and it's always good to explore.
What do you like most about giving readings to clients?
I love to help guide people find their inner strengths and work on their weakness. Help them follow their path and their heart. Life can be cruel at times and confusing. I feel that having a reading helps them see what is ahead and how to work it to their advantage at times so they can feel more empowered and take the steps to overcome any struggles.
How are you typical of your star sign?
As a Gemini I like to socialize and be everyone friend. I love to communicate and can fit into most surroundings. I love to learn and I have good listening skills, always open to ideas and love to hear others views. I can be very direct and blunt but I see that as a positive as I won't hold back though I have to say I won't go out to intentionally hurt anyone. I am loyal and love to see the best in people. I can over think things too much and can be a sensitive soul but feel that comes with my ability to pick up emotions. I have a very spontaneous nature which is a good thing but can be a bad trait to have too.
When did you first become aware of your gift?
I did have experiences a as child, though at times I did not fully understand the nature of it. By sixteen I became more curious and was given rune stones and then pack of tarot cards. It was only later in my late twenty's that I started learning what each cards means and I would practice with friends. As my children grew up and went to school I took courses and workshops and studied the cards more. I also went into a circle. I've done a lot of self-development and healing of myself in the last 5 years, which has help me connect more and give me more understanding what I can offer as a reader.
What is your most memorable experience with a client?
I was reading the cards I started to feel an older lady. I found that it was connection with clients Nan though only little bits came through the client could take all what I was saying. Once I said what lady needed to say I went back to the cards and finished off the reading. So I feel my connection with spirit it becoming stronger and developing. Though I don't class myself as medium I will give messages if it is there and comes in strong.
What other experiences or qualifications do you have that you feel compliment your work as a reader?
I have done a lot of courses along the way, not just spiritually. This has helped me understand my weaknesses and strengths within. Not saying I know it all but I have had many heart-breaking experiences and challenges that I had to face and overcome. I also work as a volunteer with victim support giving emotional support as well as finding information on 3rd parties who can help support the client move forward. I also have worked alongside additional needs adults and support them with everyday living and outside in community. I feel all this as benefit me as person and as tarot reader. I find that my past experiences as help me have more understanding of the cards and the emotions I picked up within the reading.
What is the most important thing for a person to consider when they decide to have a psychic reading?
1. Think about what you want from the reading. What is your need at this time?
2. Be prepared for the unexpected,
3. Write the questions you want to ask. Start with two main ones others can come in to it at a later date.
4. Be clear of your attentions before a reading. Sometimes holding back too much can affect the reading just as much as being too open, find a middle ground.
5. Have a notebook and pen with you so you can write down the key points of the reading. It might not make sense at the time. So writing things down that you're not sure of is a good way to look back on what was said. Remember to date it.
6. Be open to what has been said, feedback is great the stronger we hear your voice the more you get out of your reading. Though not asking for full details yes and no would be great. Or yes I can take that.
7. Give us a chance get messages across. I love to chat and help I know how difficult it can be when you're in the middle of a situation. It can be frustrating and upsetting. But sometimes clients can give way too much info that can affect how the reading comes across you may feel that you haven't got the clarity you was hoping for. So by listening and giving the yes or no will help you feel that the reading has more meaning. By all means we can talk and look at key points afterwards once you received the messages. We are here to guide and support you.
At times our life situation and circumstances may feel out of our control. But over years I have learnt we still can be responsible for our own well-being. Even when it feels we are powerless at the time. There's always a solution and something we can do. It may not always be what we want or what we hope for, but we somehow find our inner strength to overcome those difficulties. But remember it is still your decision and choice how you handle those situations in life. That is why readings are not always set in stone due to fact we all have freewill.
I find that messages become clearer when it's time to make those changes. So be prepared when these messages come through, as this shows you that you can take steps to make a difference within your life.
This brings me to the next part of your reading. It can also highlight other areas of your life that needs your attention I know it can cause frustration when this happens especially when you want to focus on other areas. But please be open to these messages as they have some great importance in your life in the now and possible future. I am grateful of the opportunity to read for you.
Pay by Phone
0905 789 1111
When prompted, enter pin 4540
Calls cost 80p per minute plus your network access charge. All calls recorded. 18+. Entertainment purposes only. You must be the bill payer or have the bill payer's permission. We may send free promotional messages. Customer services & marketing opt out 0161 607 3013
Pay by Credit/Debit Card
0161 864 8555
When prompted, enter pin 4540
Credit/Debit cards: £16.80 for 20 mins, £24.60 for 30 mins & £48.00 for 60 mins including vat. Terms and conditions apply. Money back guarantee on debit/credit card telephone readings (see help pages). Wallet readings available on this service.