Jupiter Energy
The planet Jupiter enters the star sign Leo marking a shift towards good fortune for everyone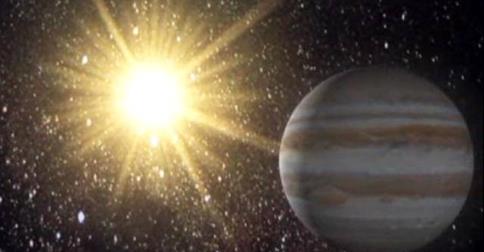 Opportunities, good luck, and happiness are about to be released all around you, because Jupiter the planet of good fortune enters Leo the astrological sign of love, creativity, and grand gestures. So if things have felt a bit difficult or lacklustre of late, get ready for the sparkle to return to your life!
About Jupiter
The planet Jupiter moves into Leo for the first time in 12 years on July 16. Jupiter is the king of the gods and is known as the planet of good fortune. Astrologically, the first half of 2014 has been difficult for many. Delays, inner reflection, and a focus on the home have dominated with Jupiter in Cancer, the sign of family, followed by further confusion with Mercury going retrograde.
But now, this radical shift in Jupiter fortune will see opportunities and passions coming to the fore. Jupiter opportunities are usually bright, bold and dynamic, but sometimes the king of the gods presents you with an opportunity that looks like a loss on first glance. So be sure to look twice at each situation that's on offer.
Jupiter opportunities
The end of a relationship spells the beginning of a better one.
Being made redundant can propel you into your dream career.
Be brave - Jupiter energy is about being courageous, so face your fears and conquer them.
Try something creative: painting, drawing, writing, photography, crafts, sewing, or interior design.
The influence of Leo
Leo is the star sign of self motivation. So now is the time to begin a creative endeavour that you've always wanted to try. The odds of it being a success are stacked in your favour!
Leo is in charge of the heart. This symbolises not just romance, but your passion for life, meaning this is a time for reigniting your inner purpose, hopes and dreams.
Your star sign
Find out how you can use this fresh burst of Jupiter/Leo energy
ARIES
Passion is flooding into your life with this shift in the heavens. Get ready for new love affairs that will reawaken your zest for life. Adventure is coming your way in many areas of your life so you'll be spoilt for choice. But reign in your recklessness and think before you speak.
TAURUS
Home life or living arrangements get interesting in the second half of 2014 for you. This could mean a move abroad to sunnier climes, or a new home or sharing your home with a new partner or house guest. This would be a good time to start a new business from your home.
GEMINI
You are entering a very busy time when creativity is firmly on the agenda. You've learned lots in the past couple of years but you need to hone your message even further. It's time to ensure your goals are in focus and your message is targeted and purposeful in order to achieve your dreams.
CANCER
A financial windfall could be written in the stars for you. You've been reassessing your lifestyle recently and it's time to put those changes you've been mulling over into action. Monetary gains will be based around the creative work you have been slogging away at - so don't give up!
LEO
Your lucky star is shining in the second half of this year. Take every positive opportunity that comes your way. Don't be afraid to inspire those around you with your good fortune - you can help lift their spirits. But don't be a show-off, keep a cool, calm demeanour and you'll be the star of the show this year.
VIRGO
Your intuitive side is coming to the fore with an emphasis on spiritual growth which is in contrast to your usually practical and down-to-earth Virgo nature. A whole new aspect of life is about to open up for you in the coming year so go with the flow and expand your mind.
LIBRA
You'll begin to see the bigger picture this year with a focus on meeting new people through international travel. You may get hooked on a cause and use your eloquence to help fight injustices you see in the world around you.
SCORPIO
Career opportunities are plentiful for you. Using your creativity to advance your aims looks likely. You may be offered more responsibility at work or find a new opportunity for yourself - whatever the case you will easily rise to the challenge.
SAGITTARIUS
A time to take creative action, this year will see the writers, artists, educators and communicators among you blossom. Enjoy the creative opportunities that appear all around you. Your enthusiasm is an asset but don't bite off more than you can chew all at once!
CAPRICORN
You are beginning to transform personally and professionally. Money, work, legacies and personal power are all favourably positioned in the planets for you. Begin the changes now that will yield this transformation in a couple of years' time and a whole new way of being is possible for you.
AQUARIUS
You are about to shoot up the career ladder as the plans you've been slogging away to put in place begin to bear fruit. Senior people at work will notice your efforts and you will be rewarded. Don't neglect your personal relationships, though, as you rise to the top.
PISCES
You are about to sort out the areas of your life that naturally creative and intuitive Pisceans usually ignore. You will emerge from this cycle much healthier, more organised and with a firm plan for the way forward. You will learn to focus on one task and will reap the rewards of this new in charge, in control you.
Comments
No comments have been made yet
Create a Psychic Sofa account today!
Get access to exclusive account features such as:
Psychic Sofa Wallet
10% extra free minutes
Online & phone top ups