5 Signs That Prove You're In A Great Relationship
If you've navigated your way through the dating scene, and you think you've met your perfect match, there are a number of signs that prove your relationship is the real deal.
Wondering if your relationship is just a flash in the pan or the real deal? In this article we discuss 5 signs that you're in a great relaionship.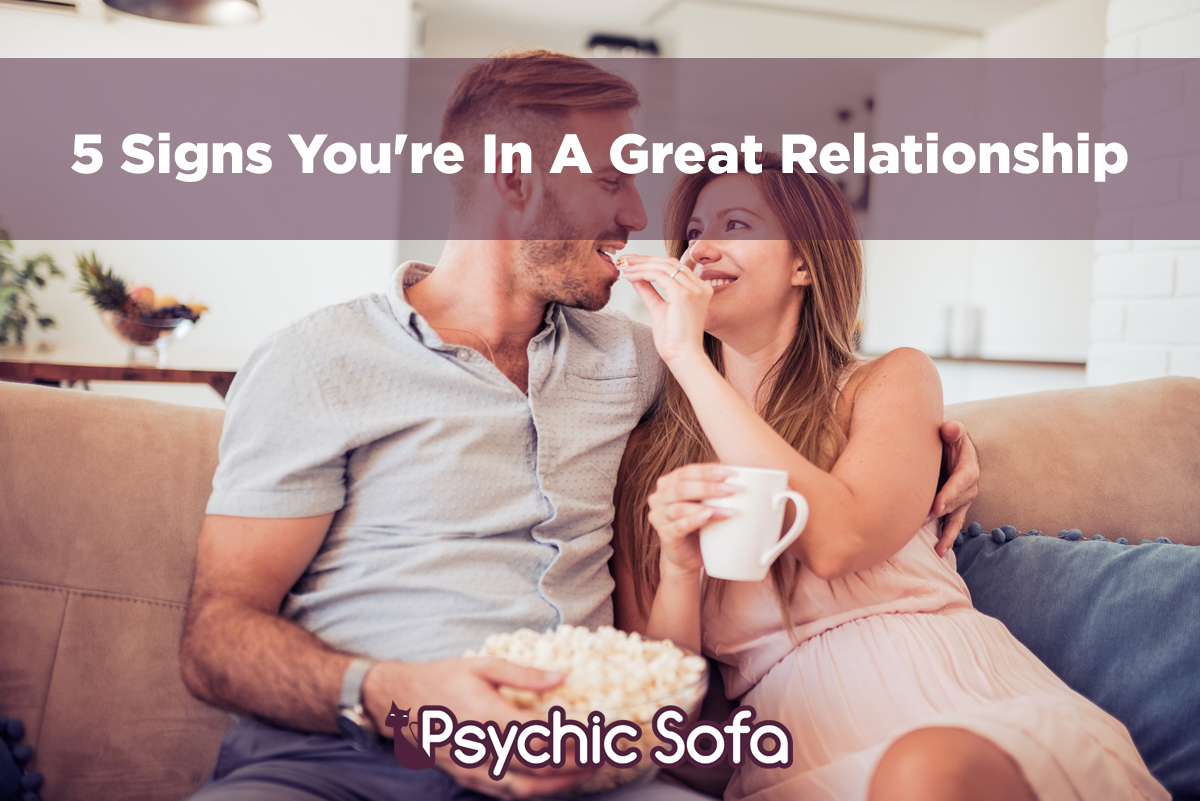 If you've navigated your way through the dating scene, and you think you've met your perfect match, there are a number of signs that prove your relationship is the real deal. Besides the very obvious mutual attraction and chemistry, it's essential that a relationship has a solid foundation that is built on love, respect and trust.
Whilst you may be tempted to follow your heart from the second that you meet, exercising some caution is always recommended at the start. As you get to know each other you'll begin to notice the signs that confirm whether or not the object of your affections is Mr or Ms Right.
1) You're Deeply Connected
Sometimes when you desperately want to be in a relationship it's easy to mistake a genuine connection with infatuation. When you finally meet someone who is on your wavelength and vibration frequency you will easily see how deep this connection is.
When two people who are perfectly matched on a soul level connect, the relationship is blissful and harmonious. You'll have a feeling that you've known this person forever. He/she will feel the same. This deeper connection allows you both to explore the relationship in a unique way. You'll both want to do whatever it takes to strengthen the bond and build a firm foundation for love to grow.
2) Your Heart Knows
Be honest with yourself. Those relationships that didn't work out were a blessing in disguise. Whilst you may have experienced pain and heartache in the past, you also gained an opportunity to understand how to listen to your heart. You probably noticed the warning signs and intuition twinges that were telling you that the person was not the one for you. But you chose to ignore them.
When you're in a great relationship your heart feels open, full and happy. There are no uncomfortable gut feelings that you have to ignore. This person makes you feel ridiculously content whenever they smile at you. And being together makes your heart melt.
3) You Feel Free
Your perfect partner accepts and loves you just the way that you are. He/she doesn't judge you or draw attention to your perceived flaws and imperfections. In a great relationship you don't feel the need to change your attitude, interests or dress sense. You simply feel free to be yourself.
You also enjoy the freedom to go out with your friends, and to maintain your personal passions and interests. The relationship bond should be deeply loving without being restrictive, so that both of you can enjoy separate pursuits without having to answer a million trust related questions.
4) You're Equals
In a harmonious relationship partners share values and responsibilities. They are equal in all respects. Your personality traits, characteristics and likes and dislikes don't have to be identical for a relationship to work. As equals you may complement each other in many different ways.
Mr or Ms Right is happy to muck in with the chores around the house. You share the tasks and jobs, and chip in whenever extra work needs to be done. As equals you both want the best for your partner. There's no effort involved in finding a balance that works for you both.
5) You Have A Number 1 Fan
In a great relationship your partner is your Number 1 Fan. They have your back in any situation, and are always there to offer encouragement, help and support. Your partner wants you to follow you dreams and to succeed at whatever you set your mind to.
There's no need for your lover to raise you up onto a pedestal, in a great relationship. This perfect partnership is based on mutual and reciprocal love and affection, without the need to manipulate or control.
Get Greater Insight Into Your Love Life
If you are looking for deeper insight into your love life, why not talk to one of our psychics who are online a ready to answer your relationship and love life questions today!
Comments
No comments have been made yet
Create a Psychic Sofa account today!
Get access to exclusive account features such as:
Psychic Sofa Wallet
10% extra free minutes
Online & phone top ups