Happy Hobby - Spiritual Me-time!
Contrary to the reputation of me-time being selfish, the idea of solitary pursuits is very common in spiritual practice. Meditation and other rituals are most often performed solo.
Get creative juices flowing with an inventive pass time
Are you feeling stressed and tired, with family commitments and work pressures weighing you down? The answer to feeling revitalised and happier is to start a creative hobby. This could be baking, embroidery, gardening, paper crafts, dress making, wood craft, jewellery making, writing, photography or knitting - anything that involves learning and improving a creative skill.
Scientific studies have found that creative hobbies, such as these, fire-up many regions of your brain at the same time, releasing feel-good hormones into your body to help you feel happier, and improving your cognitive function and memory in the long term.
So no matter how busy you are it's essential for your physical, emotional and mental wellbeing that you make time to spend on yourself. Here's some of the benefits.
1) It's spiritual
Contrary to the reputation of me-time being selfish, the idea of solitary pursuits is very common in spiritual practice. Meditation and other rituals are most often performed solo. So spending alone time on creative hobbies can become like a spiritual ritual, one which boosts your wellbeing, meaning you are refreshed rather than frazzled and ready to deal with others in a more caring way. Hobbies are about looking after your mental and emotional health. You are caring for yourself, which is essential if you want to delve into spirituality. Because in order to access your spiritual side you first need to make sure your body and mind are healthy - hobbies help you achieve this health.
2) You'll quickly de-stress
Stress is debilitating for body and mind. Creative hobbies are pure stress relief. This is because you become totally immersed in the hobby process, meaning you forget to feel stressed as your mind re-focuses on your hobby. Likewise negative emotions, such as anger, anxiety or frustration can be dissipated by becoming absorbed in a creative pass time. You'll find once you've spent half an hour concentrating on a creative hobby, your previous negative emotions will feel less intense or will have vanished. This is because the me-time spent on a hobby has given you time and space to find a sense of perspective on your feelings.
3) You'll unlock your creativity
If you find your job monotonous, a creative hobby is a great way to express your inventive side. Self expression is important because it's fulfilling, making you feel happier. But also because it can reveal hidden talents that might lead on to new ways of earning a living. If you try knitting or photography as a hobby, you may find you have a real talent for it, so, eventually, you are able to sell your work as an extra income. Explore your creative side through practicing a hobby, and you'll have created something tangible at the end, which is a very mentally and emotionally rewarding experience.
4) You'll enhance your wellbeing
Everyone can benefit from a creative hobby. Even if your skills lie in methodical organisation, and not creativity - you can benefit. Creative hobbies are for your personal wellbeing and enjoyment. You don't have to show anyone else that painting or drawing if you don't want to - it's purely for yourself. Taking time for yourself sparks feelings of self worth and confidence, which enhance your wellbeing. Hobbies bring balance to your life so you're not too wrapped up in work every hour of the day.
5) It's fun
Daily life can seem like a grind and the endless routine can leave you feeling powerlessness, so hobbies offer an escape from the routine. Hobbies are about having fun. It's a way to awaken your creative passions. The effect creative hobbies have on your brain is to release a pleasure hormone, which feels instantly rewarding and uplifting. It's a real feel-good pass time.
6) You'll make friends
Hobbies can be sociable pursuits as well as solitary ones. You can join craft, art or photography groups for support and advice with your chosen hobby. You don't have to worry about the conversation trailing off as you have a ready-made topic to discuss. It's a chance to mix with like-minded people outside your usual social circle. You'll also find loads of online forums offering free tips and conversation about your hobby. There's no pressure to attend every week, you can take it at your own pace, and you might meet some new friends. Go on - give it a try!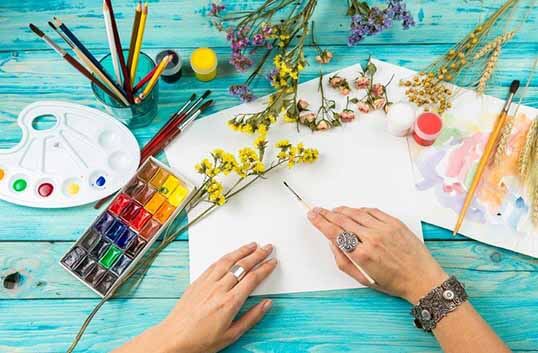 Comments
No comments have been made yet
Create a Psychic Sofa account today!
Get access to exclusive account features such as:
Psychic Sofa Wallet
10% extra free minutes
Online & phone top ups