To be happy and content, it's important that you pay careful attention to the things that you think about every day.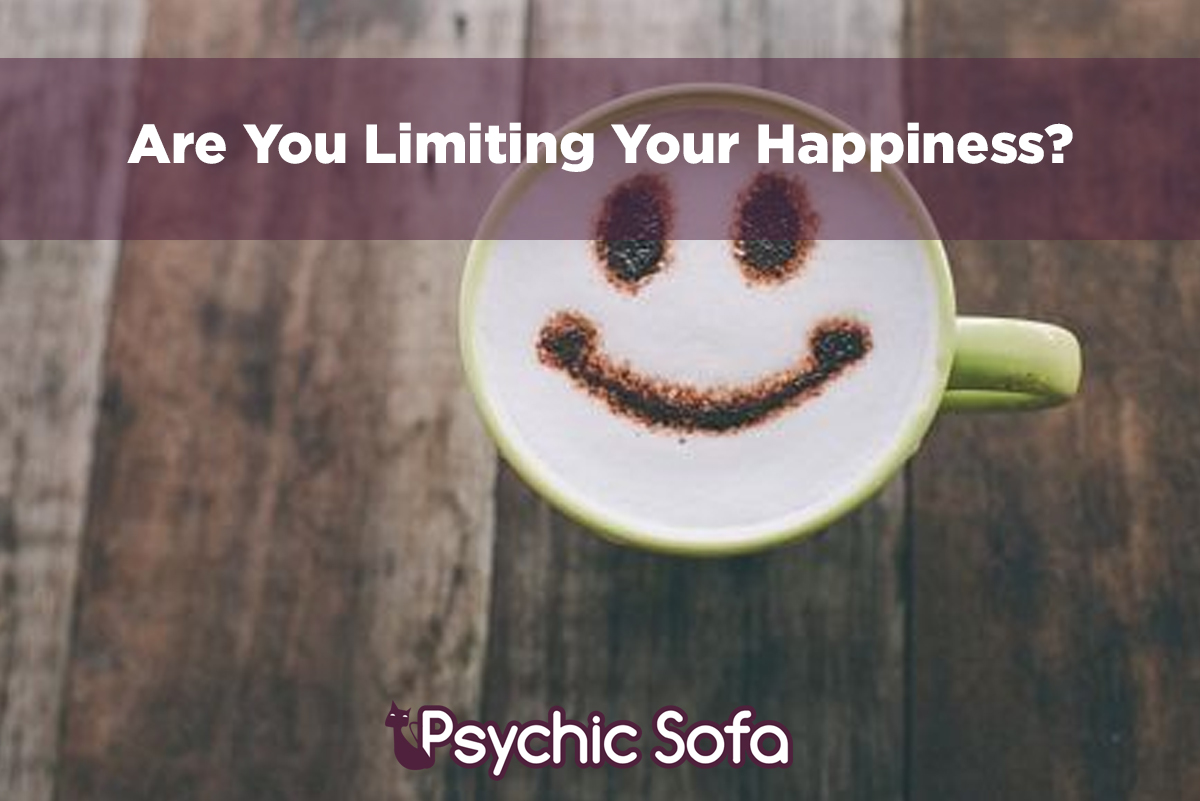 Know Your Power
You are a powerful co-creator with the natural skills and abilities to manifest the level of happiness that you want. To stop limiting your happiness it's essential that you raise your vibration and think feel good thoughts. Bad moods, pessimistic thinking and negative behaviour all have a detrimental effect on your wellbeing. Accepting that you create your own experience of life, through the thoughts that you focus on, enables you to control and to change your thinking.
When you take full control of your thoughts you can create amazing things. Before you can do this, you need to let go of the limiting self-beliefs that have blocked your happiness all this time. Dig deep and boost your self-esteem.
Stop Blaming Others
When things don't work out for you it's easy to give the blame away. Accepting full responsibility for your happiness is the only way in which you'll achieve what you want. Taking ownership for your faults, flaws, actions and decisions is absolutely essential. That doesn't mean that you have to beat yourself up every time that things don't go your way. Just accept that you have the power to make good things happen.
Shift Your Perception
When you tell yourself the same negative or limiting things over and over again, your subconscious mind accepts it as truth. If you continue to belittle yourself, or to let others do so, you'll quickly become unhappy. To stop limiting your happiness you need to get into the habit of shifting your perspective so that your thoughts come from a positive place.
Look for the good in every experience and situation, no matter how bad or challenging the reality may be. Seeing the blessings in everything is a great way to shift your perspective. If you continue with this pattern of thinking you'll soon begin to attract opportunities that feel like good luck.
Stop Seeking Approval
If you live your life constantly seeking the approval of others you are seriously limiting your happiness. Learn to let go of the need to be loved and liked, and focus only on the things that you want to do, for you. When you live life by your terms you can't stop happiness from finding you.
Let Go Of Wishful Thinking
Many people go through life wishing they just had the right opportunities. "If only…" is a negative thought that greatly impacts on your happiness. Unless you are willing to be proactive in creating the life that you want, you'll simply waste every opportunity that the Universe sends your way. To be happy, you need to be open to exploring all the possibilities. Don't let a lack of money, time or experience stop you from achieving what you desire. The Universe is waiting for you to take the first step.
Take A Chance On Happiness
No matter the hardships and suffering that you have experienced to date, every day is a new opportunity to follow your dreams. With your positive thoughts you can manifest anything that you desire. Having the right mindset is the key to enjoying unlimited happiness.
Finding Happiness
If you want to be a happier person but aren't sure whether to take a crucial step or make a big decision, chatting to one of our friendly and insightful psychics could help! Find out which psychics are available now!