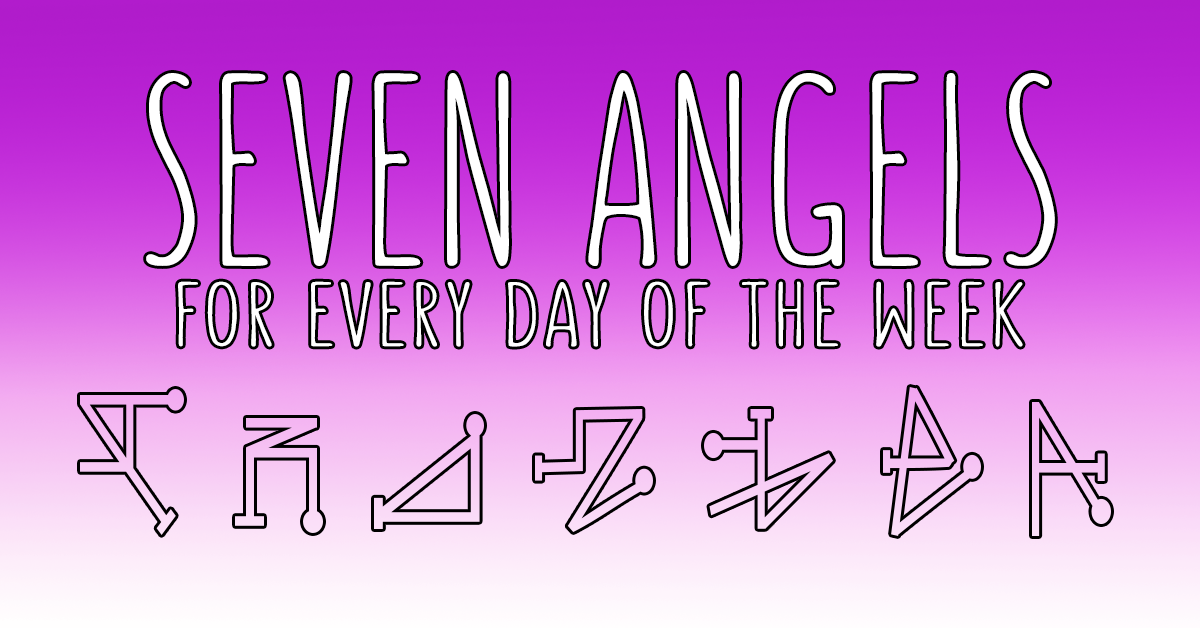 We all have guardian angels. They are not bound by time and space and as a result can help protect and be with many people simultaneously, sharing their unconditional love. But this isn't all what they want to share with us. Angels are beings of pure Divine light and possess incredible powers and guidance; and they wish to grant it to us. Their gifts can help to facilitate the journey towards our life purpose and help bridge the gap between the natural and spiritual world. However many of us are simply not aware of how we can unite with the archangels and harness their energies of pure unconditional love and knowledge.
If you want to connect with archangels the key is in understanding which angel possesses what abilities and when is the right time to call upon them. Once we have learnt about the archangels in this sense, we can then summon their energies into our domain. One technique to help create a meaningful connection is through the power of the seven rays.
The seven rays have appeared throughout history in many different cultures and teachings and are perceived as the seven different aspects of the Divine. Each of the seven rays is believed to be associated with a specific kind of energy and its correlated colour, and can be matched to the different shades of our chakras and their energies. In terms of vibration, the seven rays are vibrational frequencies that reach and influence us at an etheric level. By wearing or thinking about these colours as well as the archangels, we can bring a physical representation of their Divine spirit into our own workspace and harness their powerful energies. Make a point of connecting with the archangels on a daily basis through prayer, chant or meditation. The more you can connect the deeper your connection to their spirit will become, which in turn will further your spiritual journey.
To help you on this journey, read on for an overview on each of the seven archangels and how you can call upon them for guidance.

Sunday
This electric blue ray carries with it the Divine qualities of strength, power, faith and protection. It is little wonder that Archangel Michael, whose name means "who is as God", serves under the first ray. Throughout spiritual traditions Archangel Michael is known as the most powerful angel.
Call upon Archangel Michael when you are in need of courage and confidence, or when you feel the weight of others entangling your spirit. Archangel Michael is here to lift your spirit and free you from emotional burdens. He will protect you while giving you access to your own inner-strength.

Monday
Archangel Jophiel serves under the second, vibrant yellow ray of illumination and enlightenment. Words to describe this angel would be wisdom, joy, inspiration and intuition. Meaning the "beauty of God" this angel helps to develop beautiful thoughts and beautiful souls.
Archangel Jophiel is the angel to call upon in moments where creativity is needed or in times of deep negativity. Jophiel brings us out of the darkness and into the joyful light. This archangel is a helpful spirit.

Tuesday
The colour of pink serves to represent the third ray of Archangel Chamuel and Divine love. Archangel Chamuel's love focuses on passion, beauty, compromise and goodness. It is of little wonder why Chamuel means "one who seeks God".
Call upon this archangel to help with inner peace, resolving conflicts with others and when you need to forgive. Archangel Chamuel nurtures our inner love and helps us to escape turmoil towards peace. Chamuel is the positive light that seeks to guide us through love.

Wednesday
Archangel Gabriel serves as the fourth ray of purest white. Gabriel represents purity and means "God is my strength". This is the messenger angel; the bringer of good news, new hope and understanding. The harbinger of prophecies, many people born on Wednesday's have a natural inclination to follow their intuition.
Archangel Gabriel is there for us to turn to in moments when we need guidance and clarity on a situation. Archangel Gabriel is always there to help us, especially when we need the confidence to make the right decision.

Thursday
The fifth ray is a deep green. Archangel Raphael presides over us on this day to bless us with healing and support. Full of compassion, Archangel Raphael provides us with the abilities to communicate, heal and foresee.
The time to call upon this archangel is in times of emotional need. Archangel Raphael allows us an inner wisdom to heal our thoughts, especially through words. This archangel is especially good in a group setting, and can be called in order to bring people closer and to help exchange knowledge and ideas.

Friday
Archangel Uriel carries the colours of ruby and gold upon this sixth ray and brings knowledge and understanding to anyone who calls. This archangel is peaceful and understanding and can bring forth positive transformation, harmony and change.
Call upon Uriel's power when you need help interpreting your inner voice and needs. This archangel is especially helpful in times of major power shifts and change; they will help ease the transition as smoothly as possible.

Saturday
Known as the angel of mercy, Zadkiel's energy serves on the violet, seventh ray. Zadkiel means "righteousness of God" and helps people to approach the Divine for guidance, mercy and motivation. Archangel Zadkiel is the most forgiving of angels and not only seeks forgiveness for those who need it, but also encourages others to forgive those who have wronged them too.
Turn to Archangel Zadkiel in order to help repair broken bonds by allowing mercy into our lives. Through mercy we can learn to cleanse ourselves and seek freedom from our past and other negative forces.