How to Manifest Your Soulmate in 5 Steps
Looking to manifest your soulmate? Try these 5 steps to attract your perfect partner. From visualisation techniques to affirmations and more.
Looking to manifest your soulmate? First, you'll need to apply the law of attraction.
We all have unique perspectives of what a soulmate is. From a relationship standpoint, some feel that a soulmate is the person we're supposed to be with at the current stage of our life journey. Meanwhile, others simply see a soulmate as feeling deeply connected to another person - be it a romantic or platonic relationship.
Finding your soulmate might seem overwhelming, but it doesn't need to be.
By applying the law of attraction, you have the power to manifest your soulmate and gain more control over the connections in your life.
Let's take a closer look…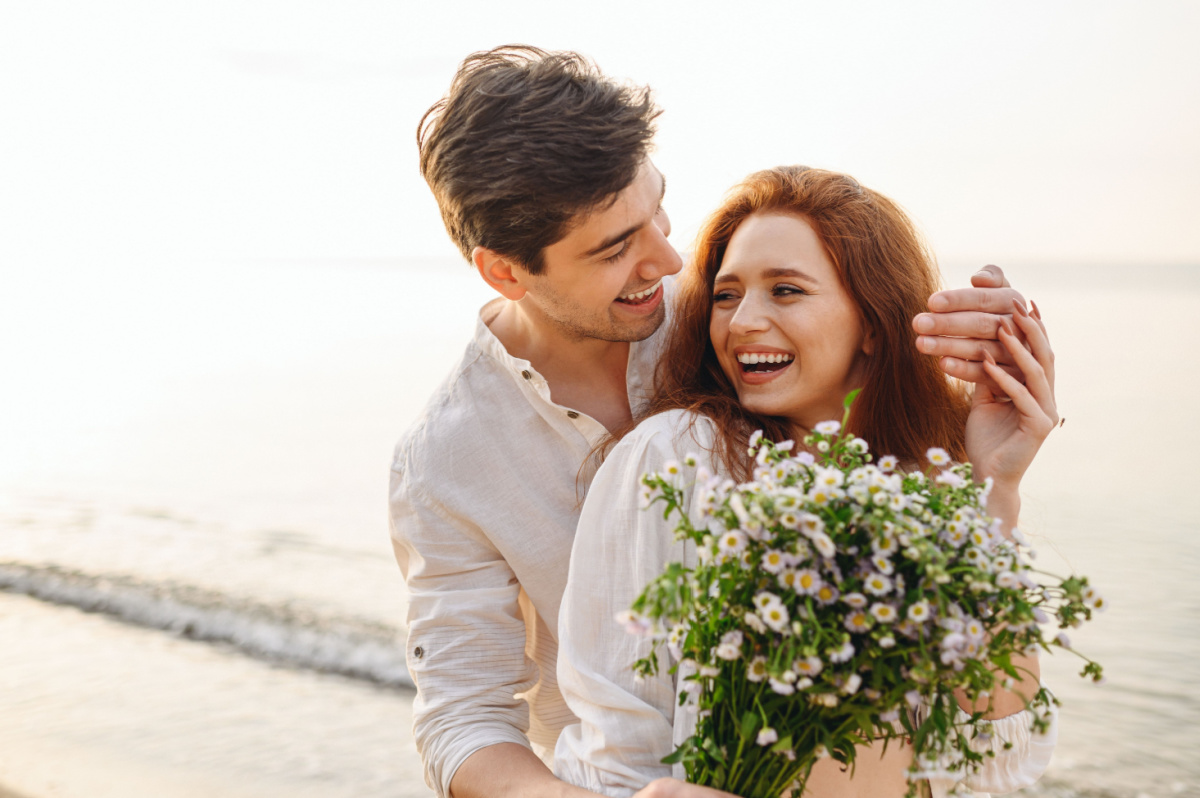 Step 1: Understand why you want to find your soulmate
First things first, you need to find clarity in the reasoning behind your soulmate search.
According to the law of attraction, we attract experiences that match our energy. Therefore, if you want to manifest your ideal relationship, you need to have a deeper understanding of why exactly this desire has formed in you.
The 'why' is significant because it will dictate whether you will attract a positive or negative experience.
Negative energy: You'll attract negative experiences if the reason you want to manifest your soulmate is backed by negative energy, such as loneliness or revenge.
Positive energy: You'll manifest a committed relationship if the reason you want to manifest your soulmate is backed by positive energy, such as happiness or kindness.
Unsure if your energy is positive or negative? Speak to one of our psychic readers for advice.
Step 2: Create a loving relationship with yourself
The basis for manifesting a healthy relationship revolves around the relationship we have with ourselves.
Being fulfilled in your own skin before you enter a relationship will mean that you are not seeking dependence from your partner, meaning you are emotionally secure and in the relationship for the right reasons.
When we truly love and respect ourselves, we're free from doubt and in a better position to trust our feelings and decisions. This enables us to be our true authentic selves, which leads to your manifestations being charged with a more positive energy.
Step 3: Be clear about what it is you want
Manifestation involves understanding the intention that backs up your desires.
Sit yourself down with a manifestation journal or even a simple piece of paper and physically write down the qualities you are looking for from your soulmate relationship.
For these qualities, you should try not to dwell too much on superficial likes - height or hair colour, for example - but instead should focus on the deeper aspects of a person.
Some questions to get your brain ticking:
How do they make you feel daily?
Do their morals align with yours?
Is their love language something you can offer them?
How do they express their love to you?
Avoid writing things like, 'I don't want this…' Instead, create a positive picture of your soulmate, of the positive qualities they will bring to the table.
Step 4: Let go of your past relationships
For those of us who have experienced negative relationships in the past, we tend to hold on to this heartache, never truly letting it go. Yet, this will be preventing you from opening yourself up to new healthy relationships, whether you realise it or not.
Learn from the pain you have experienced from your past relationships and take this forward to create an understanding of what you want from your next one, and settle for no less than that.
Understanding your needs in a relationship will be beneficial when deciding what qualities you want to settle for. For more guidance based on your star signs' love needs, check out our article here.
Step 5: Let the universe do its thing
By focusing on the things your desire, you can bring them into existence. Studies have demonstrated that when thoughts are reinforced over time, they become indistinguishable from reality.
To manifest your soulmate, you should become a vibrational match to love. When you are constantly worrying about finding someone, you are giving off a scarcity of love, which only will manifest more loneliness.
Take a step back from the worry, and allow the universe to bring your soulmate forward when the time is right.
Fancy a love life reading? Get in touch with one of our amazing relationship psychic specialists today.
Does Manifesting Work?
Manifesting is about focusing on your goals and using the power of your mind to create and achieve them in reality.
The law of attraction plays an important factor in this, as the theory explores the idea that thoughts manifest themselves into reality, whether that be positive or negative thoughts.
Manifestation can be used in all aspects of life, including your career, finances, relationships, and friendships.
Oprah has spoken about how she continually visualised herself as an actress, believing it helped her manifest the role in Steven Spielberg's, The Colour Purple.
So, the short answer is yes.
Manifestation does work, but why?
It trains unconscious action
It reminds you of your goals
It builds self-confidence and awareness
How Long Does It Take to Manifest Your Soulmate?
There's no black-and-white answer to how long it will take to manifest your soulmate. However, to get a sense of if your manifesting is working, you should keep an eye out for the universe's signals and prompts from your body's natural intuition.
A reliable way to know that your manifestation is coming is if you begin to receive guidance from your intuition because when your intuition begins to align with how you feel, you'll know your goals are turning into a reality.
Top tip: Be aware of your gut feelings, they never normally miss.
5 signs that your manifestation is coming:
You start seeing angel numbers
You start to experience synchronicities that match your situation
Your actions feel effortless
You feel positive about your manifestation
You start feeling more connected and energetic
Need advice for spotting if your manifestation is close? Speak to one of our available psychics.
Be aware that when you question how long it will take to manifest your soulmate, it's a sign that your vibration is in a state of doubt. This is an indicator that you are out of vibrational alignment with your desire.
If you catch yourself questioning the timing of your manifestation, use it as your opportunity to realign your energy.
Can You Attract Someone That Doesn't Know You Yet?
Good news - absolutely!
Firstly, to manifest someone who doesn't know you, you need to create visions of the person you want to meet. Bear in mind that the best success rates are from manifesting someone with the attributes you look for, rather than manifesting a specific person.
To attract your unknown soulmate, you should:
Be confident about who you are
Focus on the positive aspects of your life
Love without fear of getting hurt
Be open-minded to how your manifestation will unfold
Need further assistance with attracting someone who doesn't know you yet? Reach out to one of our available psychics.
Want to begin manifesting your soulmate?
If you're ready to meet your perfect match, call one of our gifted telephone psychics today. From love & relationships to career, finances, inner turmoils, and more, our talented psychic readers are here to offer guidance and clarity for those seeking spiritual support.
Ready to dive further into the world of spirituality? Stay in tune with our Spiritual & Psychic News.
Comments
No comments have been made yet
Create a Psychic Sofa account today!
Join the Psychic Sofa Community Today and get access to:
Get notified by (FREE) SMS text when a reader becomes available!
Latest offers and members only exclusives
Add favourite readers to your profile