How To Create a Tarot Reading Space
How to create a special space dedicated to practising reading the Tarot.
Why do you need a Tarot reading space?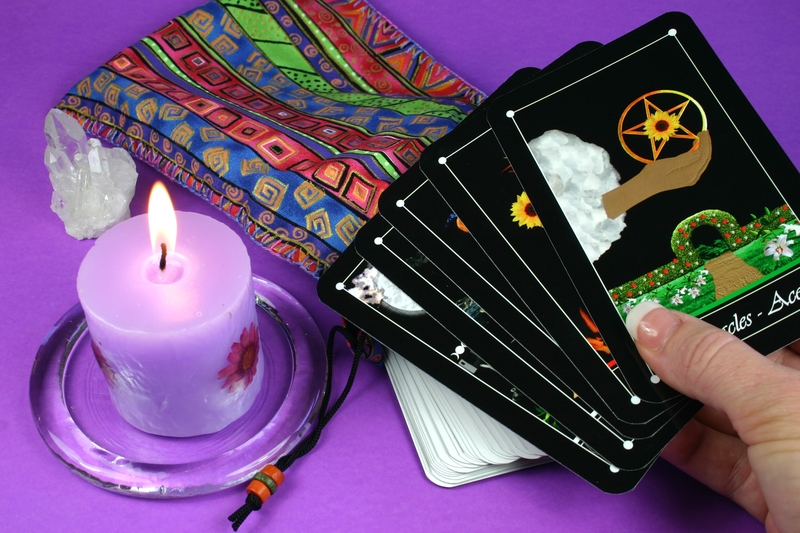 Reading the Tarot is a very personal, spiritual experience for both the reader and the client, and it is important that the atmosphere is right. It is possible to read Tarot cards anywhere there is a surface, but dedicating a special, sacred place to giving readings will guarantee a much more pleasant experience. It is important that the person having the reading, in which details of their personal life will be discussed, feels safe and and comfortable during. It is the reader's responsibility to make the client feel welcome, and put them at ease during the reading.
For many readers, Tarot is a large part of life, and so creating a space at home where you can practice is essential. Whether it's a special room, or just a corner in a room, it is important to have somewhere completely dedicated to the cards. Reading the cards over and over in the same place creates and builds up a special spiritual energy that has an amazing impact on your readings; you will find yourself able to connect to your clients easier and faster, and providing even deeper, more insightful readings. It is also a good idea to use the same space for other spiritual practices, such as meditation, yoga, or prayer, to help add to these energies, and make them stronger.
How to create a Tarot reading space
A dedicated Tarot reading space is very personal to you, and should be filled with items that help make you feel connected to your spirituality and your gifts. Many readers place an altar, filled with special items, in their space. However, it is also important to remember that all people are different, and that many people you read the Tarot for may not be comfortable with a lot of religious or spiritual paraphernalia. It is important to keep in mind that your client's comfort during a reading is essential, and so it is best to keep the space as natural as possible. Healing crystals, candles, incense and other natural materials will keep the client feeling calm and grounded. When choosing a reading surface, make sure it is made from a natural material such as stone or wood, with a cloth made from silk or cotton. When covering the table, go for a plain design, either blue or purple in colour; something that will help the beautiful illustrations on the card to stand out.
Once your reading is over, it is important to store your Tarot cards correctly; they need to be safe from damage, and contained so that they store their energies. Everybody prefers to store their cards differently; some people keep them in boxes of stone or wood, and others keep them wrapped in cloth. Although you can buy containers, it is a good idea to make your own, personalised container, to forge a stronger connection to your cards.
Creating a sacred space to practice in will guarantee much deeper and insightful readings for your clients, and will result in a much more spiritual and satisfying experience for you both!
Comments
No comments have been made yet
Create a Psychic Sofa account today!
Join the Psychic Sofa Community Today and get access to:
Get notified by (FREE) SMS text when a reader becomes available!
Latest offers and members only exclusives
Add favourite readers to your profile