Fancy a Fresh Start? Gemini Moon Magic!
How do you fancy a fresh start in life? Well, the astrological influence of a New Moon offers you the chance of just that.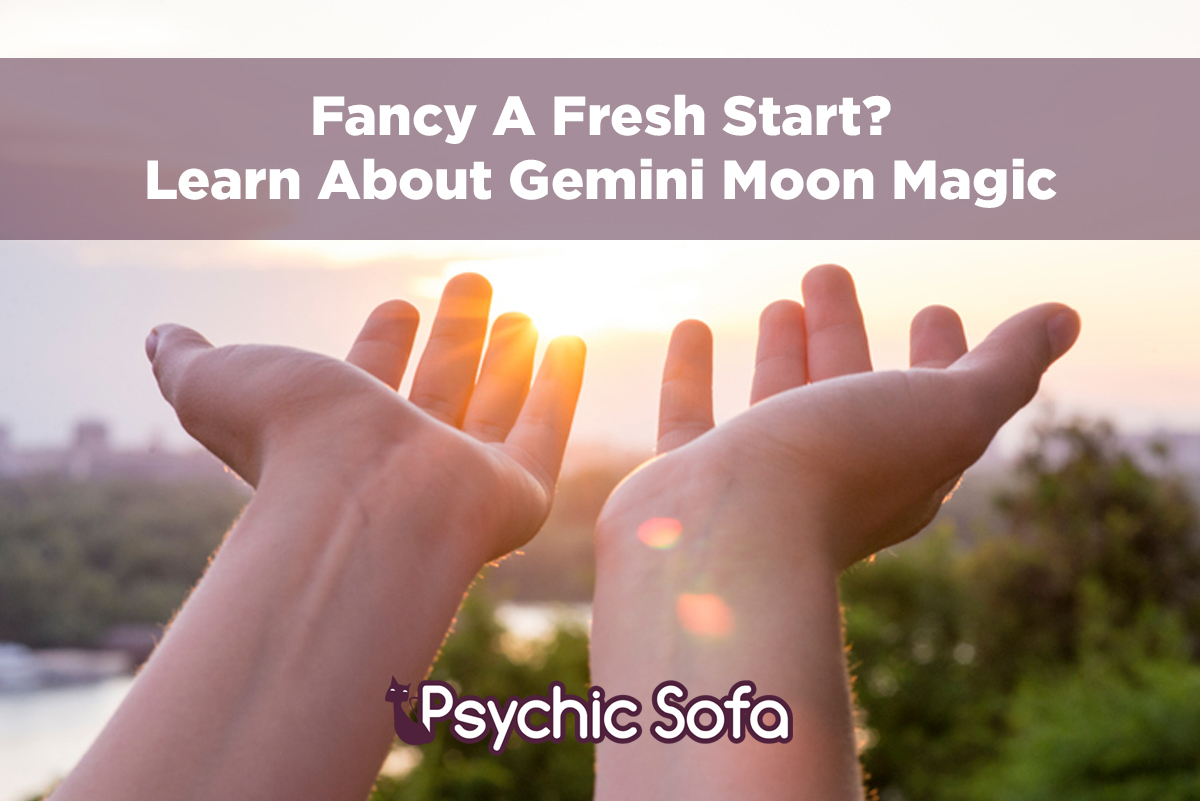 Learn all about making a fresh start under the influence of a new moon in our latest blog article.
How do you fancy a fresh start in life? Well, the astrological influence of a New Moon offers you the chance of just that. On the 13th of this month a New Moon rises in Gemini, bringing the power of this communicative sign to bear on every star sign in the zodiac. So this is a great chance to totally reinvent yourself, or perhaps just to slightly alter your path in life.
Either way the gregarious energy of the Gemini New Moon will propel you forward in life - if you let it. Read on to see how it affects your star sign.
Aries | March 21 - April 19
You are already a sociable person but Gemini's influence smoothes away your rough edges. Usually you'd go charging into a situation, now you will see that you have the ability to communicate with a sophisticated charm you never knew you possessed. Gemini's influence cools down your natural intense fire, revealing you as a warm and inviting prospect to everyone you meet.
Taurus | April 20 - May 20
Hope you're ready for a shake-up because fast moving Gemini is whizzing through your sign. Usually one to take things slow and steady, you might find the quickness of Gemini a challenge at first. Yet intellectual Gemini can shine a light on your hidden talents helping you to recognise and hone your undiscovered skills.
Gemini | May 21 - June 20
Get ready for a wild ride because when Gemini collides with Gemini the sparks are sure to fly. That something new will enter your life during the Gemini New Moon is almost certain. The question is will it be a new friend or new lover or will it be a totally new direction in life? The fun is in the finding out. Hold tight!
Cancer | June 21 - July 22
Usually happiest in your own little world, Gemini is going to bring you out of your shell. You'll find yourself enjoying social events much more than you expected and you'll want to be part of the group, for once. The influence of Gemini will leave you feeling curious, experimental and ready to step outside your comfort zone. Have fun!
Leo | July 23 - August 22
You are feeling super-charged by the Gemini New Moon! That's because your natural vitality and authority are now enhanced by the adaptability and intelligence of Gemini. If you need to make a good first impression on someone, or pitch for new business now is the time to strike because your charm and persuasion are set to maximum right now.
Virgo | August 23- September 22
Already a quick-witted sign, yet Gemini's influence takes your mental abilities even further. If there's a problem to solve, now is the time to put your formidable powers of reason into action to find the solution. Just remember to tread lightly around some of the more emotional signs.
Libra | September 23 - October 22
Already a charmer by nature, Gemini's influence will make you appear magnetic. You'll find it easy to hold a group of people spellbound by your stories or ideas. Make the most of this expressive time to let those who matter know how valuable you are. Don't let your success go to your head, though, or you might take a tumble.
Scorpio | October 23 - November 21
For someone who's normally so secretive, it will come as a big surprise to find yourself in the spotlight under Gemini Moon. You'll be popular and in demand, which will give you a buzz you don't often experience. Your formidable powers of deduction will be put to good use as you get the chance to take on a variety of interesting projects.
Sagittarius | November 22 - December 21
A natural leader, Gemini's New Moon gives you an extra boost to reach higher and further towards your goals. Gemini enhances your chances of finding the mental stimulation and travel opportunities that you crave. But airy Gemini may make you more scatter-brained than you usually are, though. So pay attention to detail.
Capricorn | December 22 – January 19
New ideas will flow from you during the influence of Gemini New Moon. You'll find your usually shy nature is overtaken by the desire to self express! Public speaking or pitching for work opportunities are all well starred at this time. Take some time to figure out what you really want from life, instead of just letting life happen to you.
Aquarius | January 20 - February 18
The inventiveness and resourcefulness of Gemini's influence gels perfectly with your dreamy idealism, spurring you into an unusual frenzy of activity. You'll find a cause that needs your lively, clever mind to see it succeed. And with Gemini's influence you'll also find the social contacts to help you win the day.
Pisces | February 19 - March 20
The Gemini New Moon brings a helping of adaptability to your naturally intuitive nature. Meaning you are more open to being flexible in your thinking than is usual for you. This flexibility coupled with your emotional sensitivity will win you great accolades in your personal life and at work.
Why not take a look at your daily horosope or if you're wondering whether now is a good time for you to make a fresh start, you could try chatting to one of our psychic readers for insight and clarity.
Comments
No comments have been made yet
Create a Psychic Sofa account today!
Join the Psychic Sofa Community Today and get access to:
Get notified by (FREE) SMS text when a reader becomes available!
Latest offers and members only exclusives
Add favourite readers to your profile