Mysterious Holiday Destinations
While you might be tempted by sunnier shores, did you know that there are plenty of places which are both beautiful, mysterious and mystical right here in Britain? Check out these spiritual and spooky hotspots.
Explore these mystical and haunting holiday destinations.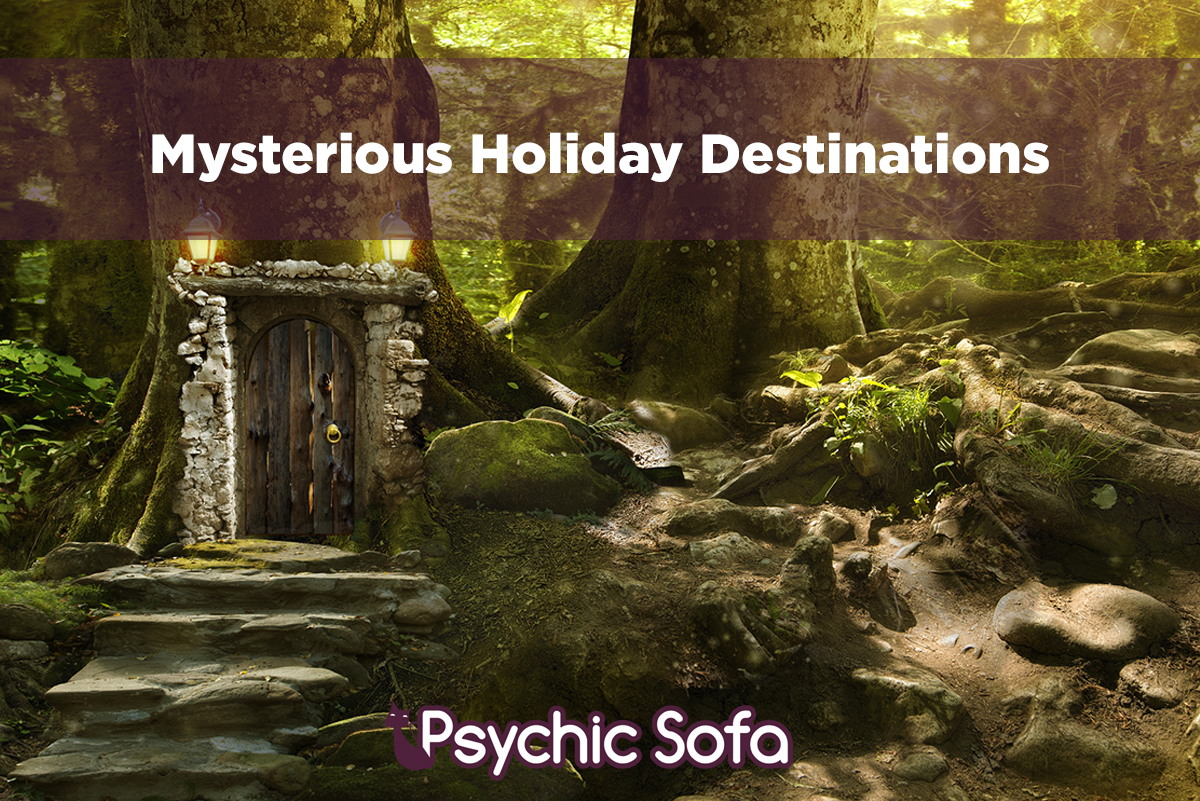 It's summer time and the sun is (sometimes) shining, so thoughts turn to taking a break from the daily grind by going on holiday. While you might be tempted by sunnier shores, did you know that there are plenty of places which are both beautiful, mysterious and mystical right here in Britain? It's true! So if you decide on a summer staycation check out these spiritual and spooky hotspots.
Anglesey
From its rugged coastline to its sacred woodland the Isle of Anglesey has the feel of a mystical place. This magical island just off the coast of northwest Wales has plenty of reminders of its ancient past, for you to explore, in the form of huge standing stones and the remains of ancient settlements. One of these, the Iron Age village of Din Lligwy, is supposedly haunted by long-dead worshipers performing an ancient ritual - spooky! Anglesey was the spiritual home of the ancient Druids, and their modern counterparts, neo-Druids, have a centre on the island today. Druids were the spiritual teachers in ancient Celtic society and the enchanting natural scenery of Anglesey still seems to contain echoes of their mysticism.
Bath
The mystical side of this smart city lies underneath its foundations inside the cavernous, well-preserved remains of its Roman baths. This sacred place was not just for the washing of the body but also for the cleansing of the soul. The Roman deity, Sulis Minerva, the goddess of these waters received the prayers of her worshipers here. The Celts also had an older shrine here to a mother goddess called Sul, who was transformed into the Roman goddess, Sulis Minerva.
The mythical king of the Britons, Bladud, was said to have discovered the healing waters of Bath, and founded the first Celtic settlement there. His equally legendary son, King Lear, was later immortalised in William Shakespeare's play. If you go to see a play in Bath's splendid Theatre Royal, look out for its resident ghost. A grey lady ghost stalks the theatre. She is supposedly the spirit of an 19th century actress who jumped to her death inside the theatre after discovering her husband had killed her lover!
Cornwall
While this county's seaside towns are a magnet for tourists, spiritual seekers should try exploring the rugged moorland of Cornwall's interior. Cornwall is a Celtic nation with a strong cultural identity. Originally home to the Cornovii tribe, its wild landscape is dotted with sacred sites. Stone circles and burial mounds are visible reminders of Cornwall's ancient past: a time when the land's stones, earth, water, trees were considered inherently sacred.
The late Neolithic stone circle known as the Merry Maidens consists of 19 granite stones in a field between Newlyn and Land's End. Legend says the stones were once young girls who were punished for their transgression of dancing on the Sabbath day (a day of rest) by being turned into stone. While dowsing these stones, an archaeologist reported experiencing a surge of energy that knocked him off his feet!
Cornwall's Bodmin Moor is a great place to explore. It has many legends attached to it, including that its Dozmary Pool is said to be the home of the Lady of the Lake in Arthurian legend. But watch out for the Beast of Bodmin, a black panther-like creature that's said to stalk the moor!
Snowdonia
One of the largest national parks in the UK, the landscape of Snowdonia, in northwest Wales, is rich in natural beauty. The area has mountains, including the famous Mount Snowdon, villages, forests, lakes, waterfalls and coastline. Perfect holiday terrain!
Snowdonia's Lake Bala is said to conceal a sunken settlement beneath its shimmering depths, a bit like the Welsh Atlantis! Legend says a wicked civilisation was washed away from this area by a flood and submerged beneath the lake.
Off the coast of Snowdonia is the island of Bardsey. Known as the 'island of 20,000 saints', it has long had a reputation as a sacred and spiritual place. Legend says many holy men and women are buried there. It's also supposed to be the final resting place of King Arthur and his magician Merlin
Isle Of Man
This little island in the middle of the Irish Sea is said to be protected by the Celtic sea god, Manannan, who draws a veil of mist around his land to shield it from invaders.
On the island belief in the 'little people', or fairy folk is still strong. So if you cross over the fairy bridge at Malew, be sure to greet the fair folk as you pass because legend says it's unlucky not to acknowledge them. On a tree near the bridge you can see gifts and notes people have left for fairies in hope of their blessing.
Keep a look out for the mermaid, who was apparently spotted splashing in the sea off the coast of the island in the early 1960s! But don't stand too close to the lakes or rivers on the island as legend says the frightening water-horses, called cabyll-ushtey, are just waiting to drag unwary visitors to their doom! A more friendly island mascot the unusual felines native to the island, called Manx cats, who are born without a tail. The lack of tail is part of their appeal and does not cause them any problems.
Contact A Psychic Now
If you are looking for answers, guidance or perhaps you're just seeking reassurance, then why not get in touch with one of our psychics today?
Comments
No comments have been made yet
Create a Psychic Sofa account today!
Join the Psychic Sofa Community Today and get access to:
Get notified by (FREE) SMS text when a reader becomes available!
Latest offers and members only exclusives
Add favourite readers to your profile