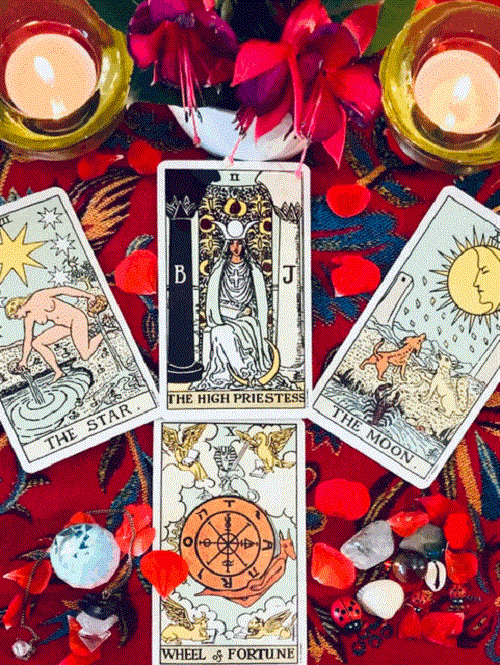 Beatrice's Profile
PIN: 4705
About Beatrice
Specialises in: Psychic Clairvoyant - Empath -Healer - Tarot - Angel Cards - Crystal Cards - Power Animal Cards
Hello, my name is Beatrice and pleased to meet you. I am a naturally born psychic who comes from a family who have always honoured the old ways. From a child, I have always been drawn to the mystic side of life and the unknown. This way of life is a family tradition and I have owned a Tarot deck since being a teenager when introduced to them by my dear Aunt. As, she has passed the knowledge of the elders to me to honour and respect. My life is very much being connected to Mother Nature and the cycles of the seasons. I have travelled immensely and lived abroad, so feel I am free spirit and a kindred soul. I am a people person who connects easily with others and can empathise deeply with others. I would like to share with you my natural gifts of being able to read various cards accurately and get direct answers to give solutions to your life journey. I specialise in the Tarot. I use this as a divination tool to connect with the universe and yourself to give guidance and understanding. I am experienced in giving general readings or I can focus on particular areas in your life from relationships, love and career. The Tarot will reveal your potential and unlock the secrets of your destiny.
What do you like most about giving readings to clients?
I am passionate about the Tarot and I enjoy connecting with clients and seeing the cards unfold each time to tell a story personal to the individual. Being able to tap into the unconscious universal energy to give guidance and understanding. This enables clients to make decisions to shape their own destiny and empower themselves. See the synchronicity that life offers and being able to describe meaningful coincidences. As the clients inner self is being expressed, this then manifests to the outside world, which is very reassuring for them and satisfying to me as a reader. I enjoy that the Tarot can give clients a different perspective on their life story and to be part of seeing how to overcome obstacles and that there are solutions to move forward. As using the Tarot gives clients answers, as there is always choice of free will and chance which is fate. I feel the most beneficial moment is when a client feels more positive and uplifted about their life journey after a reading with me. I am committed to making a difference to individuals and assist them in a kind and caring manner.
How would you say you are typical of your star sign?
I am certainly a typical Pisces and feel very much at home by the sea side or by a lakeside. The water element in my sign brings out my emotional side. I am flexible in my views and always a good listener. I have a warm heart and like to laugh and see the funny side of life more, as being a Piscean you certainly shed some tears along the way too. I love the arts, music and creativity. Being the 12th sign of the Zodiac, means I am naturally drawn to mysticism and have psychic abilities. By being the last sign of the Zodiac also signifies I have traits of the other signs. I am always in the flow of life seeking new adventures along the way just like the currents of the sea.
When do you remember being first aware of your gift?
I have always felt I was different from others. As a child, I was very much in my own world and would always be talking to spirits. I have always been able to read people and feel their emotions. This has at times been trying, as I have learnt a lot of difficult life lessons about people by being an Empath. Although in other instances, I realise I am blessed as I can sense when there is danger or unrest and it has served me well to avoid harmful situations in my life. As I am older now, I completely embrace my gifts and feel good to be my own true authentic self. I understand now I was given these gifts to help people on their life path and to be of service to others.
What is your most memorable experience with a client?
I enjoy all the readings I have with clients and cannot explicitly say one particular memorable experience. The best experience for me is when an individual has a "AHA" moment and something becomes crystal clear to them what they need to do with a life challenge. Hearing a client gain clarity and insight is the best moment ever. That they have regained hope and belief that things will get better. This satisfies me as you have merely been the conduit in presenting the information to guiding them on to a better destination in their life. That moment of discovery! As the Tarot has been the stepping stone to show you the truth about yourself and your life journey.
What other experiences or qualifications do you have that you feel compliment your work as a reader?
For the last ten years, I have been part of a Psychic Study Group and have gained invaluable knowledge from attending talks and workshops with likeminded people. I now actively organise workshops about the Tarot for others to learn and other topics. I am a holistic Beauty Therapist who practises Reiki and Emotional Freedom Technique. Aromatherapy oils and making natural beauty products for facials and massage oils. An avid Dowser, I enjoy taking field trips into the local countryside to visit woods and stone circles. I am part of an American Indian drumming group and enjoy this immensely. Growing herbs and vegetables at my allotment, looking at how nature can heal you through food. I practise mindfulness and meditate daily to have a more balanced life. I enjoy working with crystals and doing flower readings. I am a creative person who enjoys inspirational writing and also painting.
What is the most important thing for a person to consider when they decide to have a psychic reading?
The most important thing for a person to consider is to be open minded and feel relaxed. This will allow the person to be able to connect with the reader and the universe. For the person to open their heart space and mind to receive the guidance. It's to be able to have an enjoyable experience where the person feels energised and positive about their life journey from the reading.
What our customers say about Beatrice
- Kate
29th November 2020
Waiting to talk to this lady again very hard to get her xxx
- Geraldine
9th November 2020
Excellent reading. 100%accurate would highly recommend. L
- L
4th November 2020
Leave Feedback for Beatrice
Calendar
This reader has indicated they will be logging on for us at the following times: