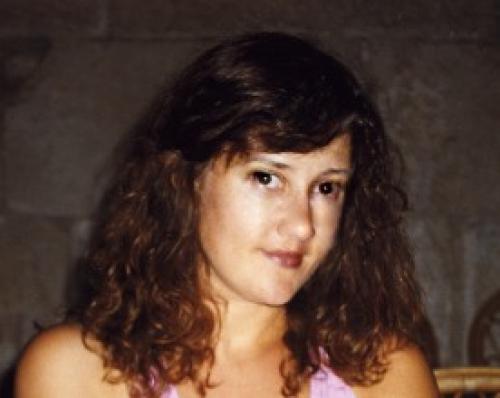 offline
PIN: 4617
Login or Regsiter to add Estelle to your Favourites
More Readers
Psychic Reader Profile: Estelle
Psychic Clairvoyant - Clairaudient - Clairsentient - Remote Viewing - Chanelling - Aura Reading - Past Lives - Runic Divination
What do you like most about giving readings to clients?
I start with offering clarity. This means I give clear descriptions of how the caller feels and why they are calling so this establishes trust and allows us to proceed with the reading. Then I offer insight from a 'higher source'. Many have called this higher source Angels, spiritual guides, helpers, ascended masters and so forth. So with the aid of these higher energies in conjunction with my finely tuned abilities as an expert channel, I can set forth the reasons why events have culminated in present day terms. I can describe past emotions and thoughts for all involved, which governed choices leading to present day dilemmas or choices and then look at changing the current outcome to a better one. All of this information I see inside my minds eye; like watching a movie un-fold in front of me, whilst simultaneously 'hearing' on a psychic level dialogue from guides who give profound insights. So lastly the guides give different possible outcomes depending on the choices the client makes.Beyond the everyday mundane life I enjoy giving empowerment insights to enable clients who feel they have spent too long taking the wrong road. There are different levels to work on as a psychic; I can perceive through the callers aura colours and these colours have words behind them that I read that indicate what would ideally make the caller happy and then how to go about creating a happier life for the caller
How are you typical of your star sign?
I am a natural born communicator and I believe astrology reveals I have a pre-disposition to be a medium / channel of the psyche and spiritual forces. I have focused for decades on developing the ability to perceive the deepest depths to bring the 'unknown' elements out into the light for greater understanding and clarity. I believe knowledge, particularly self knowledge is power.
When did you first become aware of your gift?
I remember since the age of three I had the ability to be telepathic and understand thoughts inside peoples minds and their feelings that they kept hidden. Throughout my life I have developed this gift through a set of exceptionally testing circumstances. The most prolific mediums of psychic ability have had the severest lessons. I can see how my life has leant itself to the greatest self-understanding possible in order to make me process information for others who cannot: and enable them the benefit of my expertise.
What is your most memorable experience with a client?
I remember a beautiful client who lost the 'love of her life' at 18. He married another. She came to me a few years ago saying she had recurring dreams of him and 'knew' in her soul they should be together and that she was 'ready' now for change. She had travelled all over the world in the field of merchant banking and she had attended many workshops on developing her psychic abilities also that she inherited from her maternal grandmother who was of Cherokee descent. She 'knew' she would meet this man and she asked me to 'remote view' him. I could see where he was and I directed her to frequent a certain area away from where she was residing. She met him within days of the time I predicted and they renewed their 'old love'. He had been divorced and told her (as I predicted ) that he had never gotten over her. It was rewarding and heart warming to see spiritual forces bringing people together for the 'greater good' like this. I have had many beautiful experiences as a psychic, this was one of many. I read for many working psychics and I love encouraging people to develop their gift with me whilst on the phone in a reading also.
What other experiences or qualifications do you have that you feel compliment your work as a reader?
I have studied and experienced extensive therapies, which have all helped me process psychic/spiritual knowledge and make it practical in everyday life. I have gone on retreats and accessed higher planes of existence and written about how to gain the deepest access to higher learning and depth of insights into the unseen world; (which is where thought manifests (and is the main place to access empowerment to enable working toward creating the life of our dreams.) I have studied spiritual and past life healing and how to access the libraries / (halls of learning) in spiritual realms then spent decades developing intense experiences communicating with many spiritual energies who have formed strong bonds with me in order to help people achieve their highest growth possible in this lifetime.
What is the most important thing for a person to consider when they decide to have a psychic reading?
The most important thing for a person to consider before phoning is to establish in their mind their area of focus, i.e. do they want clarity mostly as to which life path direction now to take. Do they wish more than anything to understand a broken relationship? Or do they wish more than anything to understand how to simply make the most of the current path they are on. There are so many areas of focus and it helps if the caller is clear with their intent before calling.
Reader Calendar
This reader has indicated they will be logging on for us at the following times:
Pay by Phone
0905 789 1111
When prompted, enter pin 4617
Calls cost 80p per minute plus your network access charge. All calls recorded. 18+. Entertainment purposes only. You must be the bill payer or have the bill payer's permission. We may send free promotional messages. Customer services & marketing opt out 0161 607 3013
Pay by Credit/Debit Card
0161 864 8555
When prompted, enter pin 4617
Credit/Debit cards: £16.80 for 20 mins, £24.60 for 30 mins & £48.00 for 60 mins including vat. Terms and conditions apply. Money back guarantee on debit/credit card telephone readings (see help pages). Wallet readings available on this service.