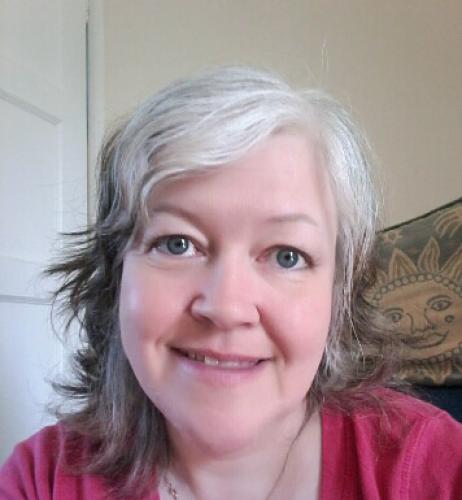 offline
PIN: 4451
Login or Regsiter to add Pagan Skye to your Favourites
More Readers
Psychic Reader Profile: Pagan Skye
Tarot, Angel and Oracle Cards, Mediumship, Clairvoyance, Clairaudience, Clairsentience, Pendulum, Crystal Ball and Handsfree.
Hello and blessings!!
I am a fourth generation psychic medium and Reiki Master. My gift has been passed down to me from my mother's side. I am not only a psychic medium but also a friend of which I have been told many times from those who I have read for. I work with the tarot, angel and oracle cards, spirit guides, the pendulum and the crystal ball during my readings, as well as hands free with no tools.
I am a clairvoyant, clairaudient and clairsentient Empath who is sensitive to other people's feelings and energy. I will use the cards to assist me with my visions and knowing, as well as to enhance my intuition and heighten my connection during a reading. When working with spirit with the help of my spirit guides they can show themselves to me in many ways if there is a connection. I can see them in dreams or in front of me. I can also hear them talking directly to me or I can pick up on a smell related to them such as their favourite food or perfume. Often I will have a knowing and feeling that spirit is with me. Each spirit is different and unique so they will show up in different ways if they can or wish to connect.
I use the pendulum for those yes and no answers and to see and feel the energy surrounding the situation. I will also use the crystal ball for further insight and enhanced energy during our reading.
Coming from a family of psychics I was born into, bought up and was able and encouraged to develop my skills. Before I was a teenager my mother gave me my first deck of tarot cards called The Gypsy Tarot which I love and still use today!
What do you like most about giving readings to clients?
I love giving my clients hope and guidance during my readings. Many people come to me with problems and issues that they can't see a way forward to. During and after a reading the client often begins to feel and see that there is light at the end of the tunnel and by the end of the reading many feel more positive, empowered, and able to make the best decision to move forward. I am generally a very caring person and if I can help and assist someone with their next step forward towards a better life then I'm happy too.
How would you say you are typical of your star sign?
I am a Taurus and very typical of my star sign. I am practical in most matters and situations and love helping others to resolve their issues. I'm also very dependable and always there for people during a time in need or even just to be there as a friend. Even when some people may give up on someone or something as a typical Taurus I will still be there, even through the most testing times. I am also very creative which comes through in my readings when looking for the 'un-thought of' ways forward.
When do you remember being first aware of your gift?
For as long as I can remember I have been aware of my gift. As a child I would often look up at the clouds in the sky and see images in the clouds and I soon found that I could predict things even before they happened and I can and I still do this today. I would say that my real first noticeable validation of my abilities and gift was when I was a teenager; I was visited by my Nan when she passed and that was even before my family were told about her passing. It was from then I knew that this was my true calling.
What is your most memorable experience with a client?
So many, to be honest all my clients and readings have their own special and unique place. However, I once had a lovely lady who had split from her husband for 2 years. She was very down and had given up nearly all hope of a happy life again. The cards did indicate that there was little hope of her being back with her husband but there was someone from her past she needed to be aware of. During this reading I could smell a strong smell of wine and I could hear the name Dominic being said to me very clearly. When I told her that, she confirmed that there was a man from her past called Dominic who was a wine merchant and had left the country to sell wine all over Europe. I told her that I sensed that there would be a new connection between them which she thought was unlikely as they haven't seen or spoken to each other for over 5 years.
After about 8 weeks she called and told me that while she was having coffee in a café Dominic also came in to the café for a coffee. They got talking and she found out that he had been all over Europe working with his company and that he was now back for good and that they are now back on talking terms and are starting to make another go of their relationship. She was so happy and gave me permission to share her story of which I am very grateful to her.
What other experiences or qualifications do you have that you feel compliment your work as a reader?
I am a certified Medium, Tarot Reader, Oracle Card Reader and Reiki Master Practitioner. I decided to train more in my psychic career as I love learning and finding out about new things. Being a psychic you never stop learning!
Also being a Reiki Master I find including healing in my readings when needed enhances you, me and our reading. This is where I open up my energy to let the divine spiritual light of the universe flow through me to you, to deliver healing straight to you for your highest good. I also perform Reiki on pets, animals and objects.
What is the most important thing for a person to consider when they decide to have a psychic reading?
You can expect an honest and empathetic reading from me and also a reading from a psychic medium who feels like a friend. The guidance I give in my readings will make you feel more at ease and ready to face any problems or questions you may have. I would say that the most important thing to think of in a reading is that of freewill. I can and will give you advice and guidance during a reading but the decision is yours. A reading is not to tell you what to do but to empower you to make a decision of which is best for you.
Thank you and...
Love, light and blessings X
Reader Calendar
This reader has indicated they will be logging on for us at the following times:
2019-05-22 20:00:00

(GMT) until

2019-05-22 21:00:00

(GMT)
2019-05-23 20:00:00

(GMT) until

2019-05-23 21:00:00

(GMT)
2019-05-24 20:00:00

(GMT) until

2019-05-24 21:00:00

(GMT)
Pay by Phone
0905 789 1111
When prompted, enter pin 4451
Calls cost 80p per minute plus your network access charge. All calls recorded. 18+. Entertainment purposes only. You must be the bill payer or have the bill payer's permission. We may send free promotional messages. Customer services & marketing opt out 0161 607 3013
Pay by Credit/Debit Card
0161 864 8555
When prompted, enter pin 4451
Credit/Debit cards: £16.80 for 20 mins, £24.60 for 30 mins & £48.00 for 60 mins including vat. Terms and conditions apply. Money back guarantee on debit/credit card telephone readings (see help pages). Wallet readings available on this service.