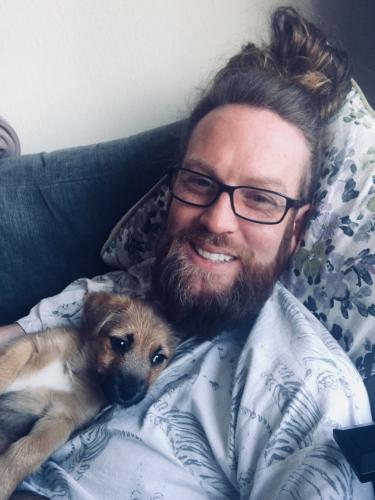 offline
PIN: 4473
Login or Regsiter to add Gary P to your Favourites
More Readers
Psychic Reader Profile: Gary P
Tarot and Intuition
Hi there, my name is Gary P and I have been giving Tarot readings professionally for over 15 years but I have been interested in the cards for a lot longer. I love all things spiritual, I became a Reiki master around 10 years ago, I get so much pleasure out of giving hands on healing and sending healing energy to those in need but giving readings is my most favourite thing to do. I cover many aspects within my readings and genuinely enjoy my time with each client, it's always such a treat for me.
What do you like most about giving readings to clients?
There are so many reasons why I love to read the cards for clients, firstly and most importantly for me, to be able to assist others in guiding and assisting them with options for their choices is such a privilege, I see every reading as a great honour, and I really enjoy hearing the penny drop for my clients. I feel the cards just 'make things make sense'. Whilst the cards provide most of the information I give during a reading, I would class myself as an intuitive reader, which always surprises me when I give information that could never be detailed on a Tarot card. I feel the answers are always around all of us but having some time with a Psychic always seems to puts the plan in place and enables the universe to work with us to achieve our goals.
How would you say you are typical of your star sign?
As a Gemini/Taurus I feel lucky to have some really strong typical traits of two signs. My Gemini side relies heavily on my communication skills and I pride myself of being a great listening, talker and witty when appropriate, whilst my Taurean side is the sensible, practical, loyal and stable influence. I love to motivate others in achieving their goals and recognising their own potential.
When do you remember being first aware of your gift?
I was attracted to the cards from young age, my mother is very psychic despite not using her gift as a professional but I'm convinced that her intuitive mediumistic side has been passed down to me. Looking back as an adult I now realise that spiritual things that happened when I was young were not "normal" for other children, at the time it was just how things were I guess. I have to say the day of realisation when I understood I may be a little psychic was when I first picked up a tarot deck, it felt like I was holding something in my hands that I had used many times before, it felt like home.
What is your most memorable experience with a client?
Every reading is memorable in an individual way and this is what drives me to complete such full and quality readings, my clients get what they need from their reading however I also feel so blessed to have taken part in such a special event. My first ever professional reading has to be my most memorable, I had completed a short Tarot workshop course when the tutor told us that we were about to read for one of her colleagues!!!!! I gave an hour readings, which felt like five minutes and the information I gave I still can't quite believe came out of my mouth. From time to time I see clients whilst out and about and the first thing they say is always "do you remember telling me that…….." and it's a little embarrassing as it's impossible to remember details from all the readings I've given over the years, but it's rare I forget a voice or a face, so I may not remember what we discussed but I will remember you.
What other experiences or qualifications do you have that you feel compliment your work as a reader?
In my previous work life I have always been in supportive roles and feel that this has been invaluable in achieving my dream as a tarot reader. During my readings whilst I am doing a lot of talking sometimes I'm listening to sensitive matters and these must be dealt with sensitively and confidentially, this is the upmost importance to me and has always been imperative in my previous professional jobs and has become second nature. I really enjoy helping people work through their challenges, regardless of the subject matter, being helpful, kind and caring comes very naturally to me. I live by the saying a problem shared is a problem halved and feel this is certainly the case with Tarot.
What is the most important thing for a person to consider when they decide to have a psychic reading?
As I mentioned above I feel the answers are already around us, but seeing a psychic can push opportunities in front of us that may normally sit there collecting dust. The reading for me acts like a satellite navigation of options and choices, we can chose to listen to the sat nav or we can make our own mind up, but knowing what's coming can be so helpful and calming. I like my clients to come with an open mind as well as the knowledge that the choices are in their hands.
Pay by Phone
0905 789 1111
When prompted, enter pin 4473
Calls cost 80p per minute plus your network access charge. All calls recorded. 18+. Entertainment purposes only. You must be the bill payer or have the bill payer's permission. We may send free promotional messages. Customer services & marketing opt out 0161 607 3013
Pay by Credit/Debit Card
0161 864 8555
When prompted, enter pin 4473
Credit/Debit cards: £16.80 for 20 mins, £24.60 for 30 mins & £48.00 for 60 mins including vat. Terms and conditions apply. Money back guarantee on debit/credit card telephone readings (see help pages). Wallet readings available on this service.