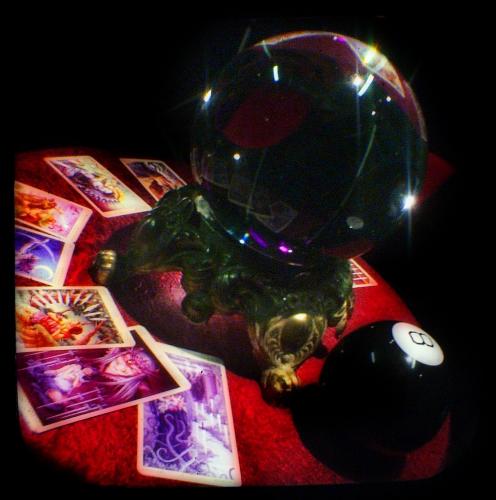 offline
PIN: 4244
Login or Regsiter to add Psychic7 to your Favourites
More Readers
Psychic Reader Profile: Psychic7
Natural psychic
I first remember being psychic just after my 7th birthday hence my reader name. Spirit would often visit me when I was young, whether I was with people or on my own, but I was too young to understand it and if truth be known, too scared to embrace it until I was much older and in my teens. It's a hard gift to explain when you "just know" someone is going to call, or you're going to bump into someone or the outcome of a certain situation but the more obvious it became to me and the more the reality of my thoughts started to occur, I realised that it was a psychic ability which had been passed down by the women on my mother's side for generations. From then on I have been giving readings for as often as I can remember. I am able to look in to your past, present and more importantly your future. With me you will get an accurate, clear, genuine and overall, kind and non-judgemental reading which will leave you feeling uplifted, clear and more focused on what's coming up for you.
What do you like most about giving readings to clients?
As a reader, the best thing is knowing you have made that initial connection with a client. From the first voice vibration information starts to flow and once you have that it's an amazing feeling for at that time you almost become one. Having clients ring back and tell of their successes is also fantastic but positive feedback and ultimately knowing you were there and have helped someone is by far the best bit.
How would you say you are typical of your star sign?
Hmmm... I'm often reluctant to say I am a Scorpio as they often get a lot of "bad press", however, I'd like to say I'm lucky enough to have been blessed with the good traits of the Scorpio star sign, i.e. social, dynamic, determined, loyal and dare I say, clever!
When do you remember being first aware of your gift?
It was actually 4 days after my 7th birthday. I remember sitting next to my mum on her bed and my brother was standing at the end and very clearly there was another man next to him which later became apparent, that only I could see. I couldn't understand how my mum and brother were continuing their conversation without looking at or including this man. I was terrified but as I got older and I became more trusting, it was just like second nature.
What is your most memorable experience with a client?
There are so many stories I could tell but for me the memorable readings are the ones where I say it's going to happen any minute now. Naturally some are sceptical but when it does happen, it's just the most amazing feeling. The most recent experience is between two people who were so in love but had no choice but to part. The situation seemed impossible and if I didn't have my"psychic hat" on I would have thought it was impossible too! But I can only give what I am being given and so although after 6 months apart with no contact whatsoever, I could see a girl sitting in a car crying and desperate to make contact. She felt so torn but I had to give my client that she would make contact and they would be together again as a couple. They were so fed up waiting after half a year they didn't believe me but 3 days later I got a call saying the girl was sitting in her car and called crying saying how much she misses the relationship and wants to start again. The obstacles in that situation seemed insurmountable but at the end of the day, you can't stop fate!
What other experiences or qualifications do you have that you feel compliment your work as a reader?
I've been giving readings for a long time now and time is the only thing that I feel qualifies a psychic to enhance and grow their gift. For me, the pure ability to connect with someone's energy and/or voice and feel what is going to happen is an experience in itself. I am also clairsentient which means I can feel as well as a gather your feelings and thoughts. These all make for a wonderful psychic experience and for the clarity which I am sure you are after.
What is the most important thing for a person to consider when they decide to have a psychic reading?
I think it's really important for the client to relax and not go in with too many expectations. Keep a calm mind, especially at the start as if you have thoughts racing around your head, (I can only speak for myself as a reader) but it can make me jump around with your thoughts and throw the reading off balance. Ultimately the most important thing is for the client to enjoy the experience of a psychic reading, make note and remember what has been said as often many things come to light at a later point in time.
Pay by Phone
0905 789 1111
When prompted, enter pin 4244
Calls cost 80p per minute plus your network access charge. All calls recorded. 18+. Entertainment purposes only. You must be the bill payer or have the bill payer's permission. We may send free promotional messages. Customer services & marketing opt out 0161 607 3013
Pay by Credit/Debit Card
0161 864 8555
When prompted, enter pin 4244
Credit/Debit cards: £16.80 for 20 mins, £24.60 for 30 mins & £48.00 for 60 mins including vat. Terms and conditions apply. Money back guarantee on debit/credit card telephone readings (see help pages). Wallet readings available on this service.