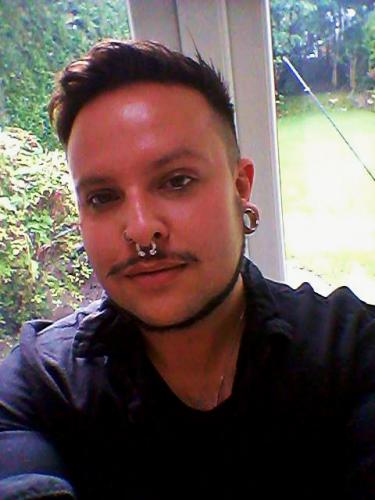 offline
PIN: 4357
Login or Regsiter to add Seth to your Favourites
More Readers
Psychic Reader Profile: Seth
Tarot and Oracle cards
Hi, I'm Seth!
I've been studying and reading Tarot since the late 90's. It wasn't until I'd been reading for friends and family for ten years that I decided to take the plunge and start doing professional readings for clients because I love giving readings so much and have had such positive feedback over the years.
Tarot is my main tool, but I do also love to work with oracle cards to complement my readings. I have a serious addiction to collecting Tarot and Ole card decks, so I'm never short of inspiration in deciding which decks to use with my clients.
I would describe myself as an intuitive Tarot and Oracle card reader. I use my extensive knowledge of the symbolism of the cards to make sense of your situation and then these act as a trigger for my own intuitive feelings that may come through as messages or visual images in my head.
I've spent most of my life studying and being involved in various spiritual traditions and am a practising Wiccan Priest. I've been fascinated with Tarot, crystals, gods and goddesses, saints, angels and different spiritual and religious paths for most of my life and hold a BA degree in the study of religion and theology from the University of Manchester. I feel my diverse interests help me to understand and relate to clients from a wide variety of cultural and religious backgrounds.
What do you like most about giving readings to clients?
I love connecting with people and always approach my clients with warmth, kindness and respect. I love being able to provide clarity and guidance to my clients and have had so much positive feedback over the years from people who have been helped by my readings. It feels good to help others. I am always keen to provide positive and constructive advice on how to make the most of whatever situation you are in.
How would you say you are typical of your star sign?
Whilst I am a very calm person who can be quiet at times, my fiery Leo nature comes out in the warmth and loyalty I have towards my friends and clients, and also in my creative expression. I am a qualified makeup artist and love to attend parties and events where I can really express my creativity through dressing up and wearing dramatic make up. That's definitely when my look-at-me-Leo side comes through!
When do you remember being first aware of your gift?
I have always been an intuitive person and growing up, I was the dreamy child who loved to spend a lot of time alone drawing pictures, reading books and expressing my creativity (which itself, is a very intuitive process). I had many vivid dreams and some psychic experiences in childhood. My intuitive and psychic gifts have definitely developed for me throughout my years of training, study and practice within some of the spiritual traditions I have been a member of.
What is your most memorable experience with a client?
Probably my most memorable experience to date has been when I gave a reading to a woman who had already seen another reader on the same issue. She had kept a record of the cards that came up in her last reading and squealed as I turned over all the same cards in the same positions!
What other experiences or qualifications do you have that you feel compliment your work as a reader?
As I mentioned earlier, I feel my BA degree in Religion and Theology has helped me to connect with clients of different religious backgrounds. It's very useful when clients ask about spiritual matters. My work as a make-up artist and previous job roles I've had (such as in my role as an assistant hairdresser) have really given me a lot of experience in connecting with people from all walks of life. I really do love people. The spiritual groups and traditions I have been a member of have also been very helpful for me in developing and cultivating my own intuitive and visionary abilities.
What is the most important thing for a person to consider when they decide to have a psychic reading?
Keep an open mind. Be willing to hear what the reader has to say and be open to guidance and messages. It may sound strange, but some people approach readers when they aren't prepared to listen and have already closed themselves off from possibilities and suggestions the reader may have for them. If you are open and receptive to your reader and appreciate that they want to provide some clarity and help for you, the reader will be able to do their job much better. Lastly, enjoy!
Pay by Phone
0905 789 1111
When prompted, enter pin 4357
Calls cost 80p per minute plus your network access charge. All calls recorded. 18+. Entertainment purposes only. You must be the bill payer or have the bill payer's permission. We may send free promotional messages. Customer services & marketing opt out 0161 607 3013
Pay by Credit/Debit Card
0161 864 8555
When prompted, enter pin 4357
Credit/Debit cards: £16.80 for 20 mins, £24.60 for 30 mins & £48.00 for 60 mins including vat. Terms and conditions apply. Money back guarantee on debit/credit card telephone readings (see help pages). Wallet readings available on this service.