Going on a first date? Meeting someone new for the first time can be nerve wracking so in our latest article we reveal tips to help you beat first date nerves by taking a spiritual approach.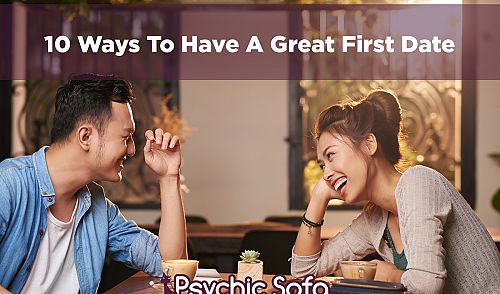 First dates are the first step on your journey to lasting love. But all too often they end in disappointment, embarrassment or hurt feelings. Take a new approach to meeting your future soul mate by adding a touch of spiritual thinking. Follow these simple steps to prepare for your date and use them while you're there. By shifting your thinking you'll be less stressed and totally ready to meet your future partner.
1) Keep it Real
Have you every used an old photo for online dating, showing a younger version of yourself? Have you ever exaggerated your career, lifestyle or earnings? Don't do it! The number one mistake you can make when dating is pretending to be somebody you're not. By faking it, you are setting both you and your date up for an emotional fall. It's stressful to keep pretending and your date will never get to know or appreciate the real you. By all means be the best version of yourself that you can. But be authentic. Be yourself.
2) The One doesn't exist!
Forget the outdated notion there's only one man/woman in the world who can possibly be your soul mate. It's not true. In fact, there are plenty of wonderful people out there who could match with you. By thinking in terms of 'the One', you are setting impossibly high standards which will never be reached by a person who is genuine (and not pretending to be perfect). Go to your date with an open mind.
3) Patience reaps Rewards
Like any task worth doing, dating takes dedication and patience. So don't get disheartened if the first few dates don't work out. The day after your date, consider what went well and what could have gone better. Figure out the aspects you could improve on and make the changes you need to for next time.
4) Dress well, feel confident
Wear something that makes you feel confident. A particular colour or pair of shoes, for example. Feel-good clothes equal added confidence on a date. Dressing well shows your date you've made an effort and you are serious about the meeting. However, don't wear a suit if you're always usually in sportswear. Instead wear clothes similar to those you'd normally wear - just a little smarter. This way you are still being authentic.
5) Make Smalltalk
A top dating fear is worrying you'll run out of conversation. But small talk is easy if you put your date at ease by asking something low key and chatty, such as, 'how was your day?' or 'what did you do last weekend?' By asking informal questions that are easy for your date to answer, you'll create a relaxed atmosphere.
6) Ask about talents
A good ice-breaker is to ask about your date's interests. Unless it's a blind date, you'll already know about the types of hobbies he/she has. So give your date a chance to talk about their skills. This will allow you to see your date in a favourable light to see if the attraction is there.
7) But it's not an interview!
A date is about seeing if your personalities and outlooks gel together. However, it's not fair to bark question after question to see if your date matches every item on your dating checklist. It's a date not a job interview! Treat your date how you would like them to treat you.
8) Take it slow
Get to know each other slowly. Less is more. So don't reveal your hopes and dreams for the next 20 years on a first date - it's too much information! Don't complain about people to your date. Negativity about others is never a good look on a first date. A first date should be about gradually getting to know one another. You have all the time in the world. So keep conversation light and upbeat. Have fun!
9) Bow out Gracefully
If you've given your date a fair chance but it's obvious things are not going well, don't be afraid to leave. Always be polite, however, and thank your date for his/her time. Be clear about not wanting to meet up again. Don't leave room for false hope.
10) Don't play it cool
Games are for children, not for two adults looking for a life-partner. So don't try to play it cool. If you enjoyed your first date - let him or her know. Send a light and upbeat text the following day to thank your date for an enjoyable meeting. If he/she is not interested at least you'll know straightaway. But otherwise it's roll on date number two!
Contact A Psychic Now
If you are looking for answers, guidance or perhaps you're just seeking reassurance, then why not get in touch with one of our psychics today?