10 Most Haunted Pubs in Britain!
Are you fascinated by the paranormal? Because visiting your local pub might offer you the opportunity to see the sort of spirits that don't come in a bottle. Ghosts!
Check out these spooky locations across the UK - if you dare!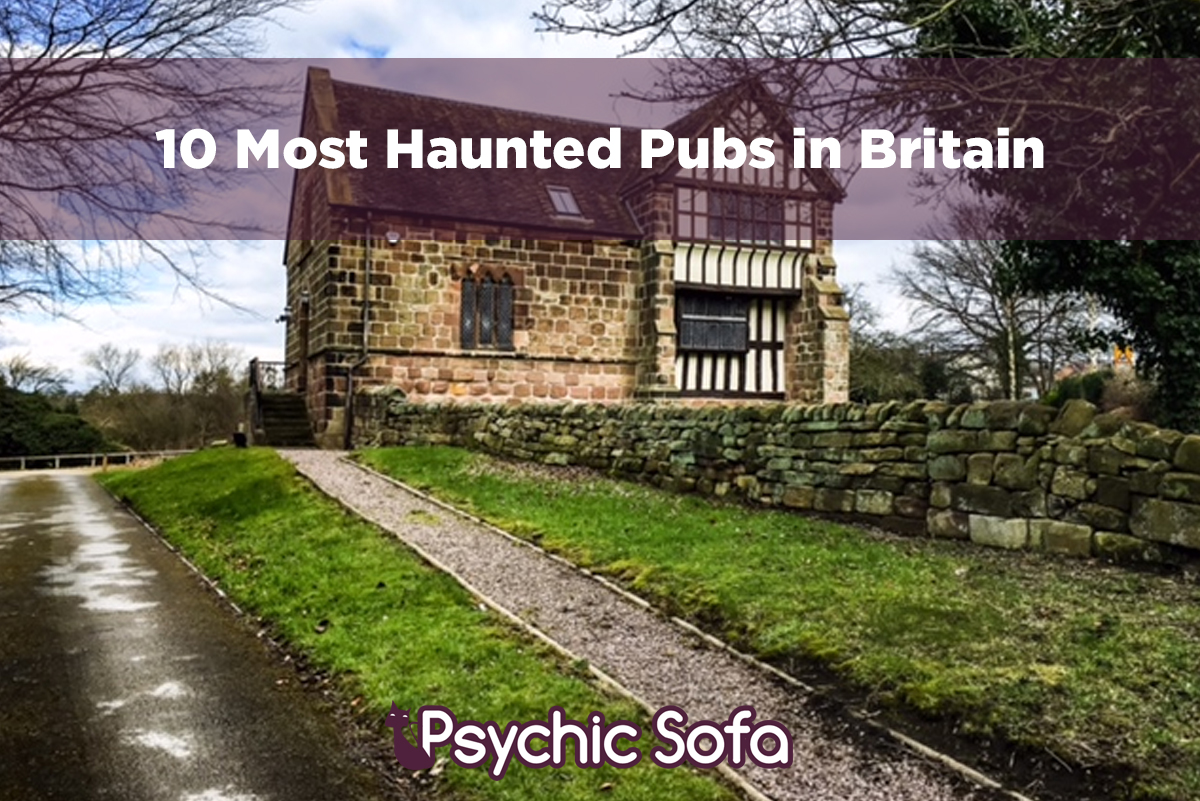 Are you fascinated by the paranormal? Because visiting your local pub might offer you the opportunity to see the sort of spirits that don't come in a bottle. Ghosts! Local pubs have always been the hub of British communities, being hotbeds of gossip, merrymaking, illicit passions, disagreements and even murder! With emotions flaring inside the walls of your local pub, it's not too surprising that some former visitors might still be hanging around as ghosts. Here are a smattering of the UK's many haunted pubs.
Ye Old Man & Scythe, Bolton
With 750 years of history behind it, it's little wonder that this intriguing pub is home to a spectre or two. The spook that makes itself most known is the pub's former owner, James Stanley, 7th Earl of Derby. According to legend, the unfortunate Earl fought on the losing side of the English Civil War of the 1600s. Stanley spent his last night on earth drowning his sorrows inside his hostelry, before being dragged to his doom at the end of the executioner's axe, the following morning. However, not one to allow death to prevent him from hanging out in his favourite pub, Earl Stanley is still there in spirit! In case you were in any doubt of his spectral existence, the ghost of Earl Stanley has been caught on the pub's CCTV system, still keeping an eye on his former haunt.
Bucket of Blood, Phillack, Cornwall
Such a gory name surely must mean a few phantoms are hanging around this quirky inn? Built in the 18th century, legend has it that its name came about because the landlord reeled in a bucket of blood from his well! This unwelcome surprise occurred because smugglers, who like to hang out inside the pub, had thrown a dead body down the well. Gruesome! Consequently the pub has a reputation for a few spooky residents. Another less grisly but interesting explanation for the red tinged water from the well was that it was contaminated with tin from the local mine.
The Devil's Stone Inn, Devon
Named after a nearby huge chunk of rock that was supposed to have fallen out of the devil's pocket. This 400-year-old pub has a range of ghostly residents who sometimes decide to cause mischief by turning taps on and off during the night. Annoying! There's said to be a secret underground tunnel connecting the pub to the local church. Spooks include a little girl who like to play hide and seek, and an elderly coachman who sits on one of the armchairs.
The Ring O'Bells, Middleton, Manchester
Dating back to 1106, this inn has a truly bloody history. Thought to be the site of more than 60 murders, most perpetrated by its 17th century serial killer landlords. The landlord and his wife murdered rich guests by tipping them out of their specially hinged bed into a vat of boiling liquid! The guests' valuables would then be sold to line the murderous duo's pockets - or so the story goes... Ghostly figures have been seen floating about near the scene of the alleged murders and cold spots have been experienced where the bodies were allegedly hidden.
The Mermaid Inn, Rye, East Sussex
Steeped in history, this fascinating hostelry has foundations dating back to 1120. Once home to a terrifying band of smugglers, their dark deeds are said to still echo through the building. A white lady haunts one of the bedrooms, where she is said to have met her end at the hands of one of the smugglers. A long past sword duel to the death is replayed over and over in another bedroom, which comes as a bit of a surprise to slumbering guests!
The Ring O'Bells, Middleton, Manchester
This unassuming building has ancient origins. It is reputed to be built on the site of a Druid temple, which later became a place where Saxons gathered to share a cup of mead or two. But its most prominent ghostly resident is from much later. This spook is the spirit of a 17th century cavalier named Edward, who was killed by Cromwell's forces. He appears wearing his Royalist military uniform and has been known to slide a glass along the bar. Cheers!
Golden Fleece, York
Packed with spooky guests, this 16th century pub certainly counts as one of the most haunted in the country. A former mayor's wife, a Victorian boy, a strange character called one-eyed Jack and a mournful Canadian airman are just some of the spectral beings who wander this place.
The Skirrid Inn, Abergavenny, Wales
According to legend this was the place where Welsh freedom fighter Owain Glyndŵr rallied his troops against the English. Hundreds of years later its history turns darker as it became a place of execution, where many met their end. So naturally it echoes with the sound of ghostly footsteps, creaking hangman's ropes and wispy apparitions flit along its corridors.
Jamaica Inn, Cornwall
Located in the middle of wild and windswept Bodmin Moor, it was a magnet for smugglers in the 18th century. Even more sinister were the rumours that it was a meeting place for wreckers - criminals who would lure ships onto the rocks then rob and kill and the survivors. Novelist Daphne du Maurier was so inspired by the tales surrounding the inn that she made it the focus of her book Jamaica Inn. Resident ghosts supposedly include a drinker who was killed on the moor and who returns in spectral form to finish his pint, a malevolent highway man and a sobbing woman. Ghoul-tastic!
Comments
No comments have been made yet
Create a Psychic Sofa account today!
Join the Psychic Sofa Community Today and get access to:
Get notified by (FREE) SMS text when a reader becomes available!
Latest offers and members only exclusives
Add favourite readers to your profile