Your Guide to the Best Crystals For Attracting Love
Looking for crystals for attracting love – be it familial, romantic, or platonic? Check out this guide from the experts at Psychic Sofa.
Crystals for attracting love are just one of the ways that our readers use psychic readings - especially during the month of February, with Valentine's Day on the mind. Each with its own unique property, crystals can infuse all kinds of strong, lasting energies into your life, romantic or otherwise.
That said, love might just be closer than you think…
Crystals have been used and worshipped for thousands of years. Indeed, the ancient Sumerians used hematite for its protective properties in temples, and ancient Egyptians favoured lapis lazuli in everything from jewellery to their tombs, revered for its intuitive and enlightening qualities. Today, many of us still keep crystals close to our heart, knowing just how much they can benefit our life, love and wellbeing!
In this article, we're going to explore the best crystals for attracting love, which could be more than romantic, but friendship or familial-related; whatever love you seek, these crystals are sure to enrich your life and help to shape your future.
Our years of know-how in astrology, horoscopes, being a crystal expert and understanding the many energies of the world, has enabled us to experience and understand pretty much every crystal out there. We know the properties of crystals off by heart, and exactly how they can help you.
With this precious knowledge, our guide to crystals for attracting love can bring about far more than just love in the air, but better happiness, health and prosperity in the long-term.
If you're keen to read on for more information, don't wait to contact our impressive selection of telephone psychics at Psychic Sofa. Our telephone psychics are always to hand, compassionate and confidential. They provide direct and personal readings, with valuable insight into your past, present and future. Assuredly, they'll be able to assist you in all matters of the heart.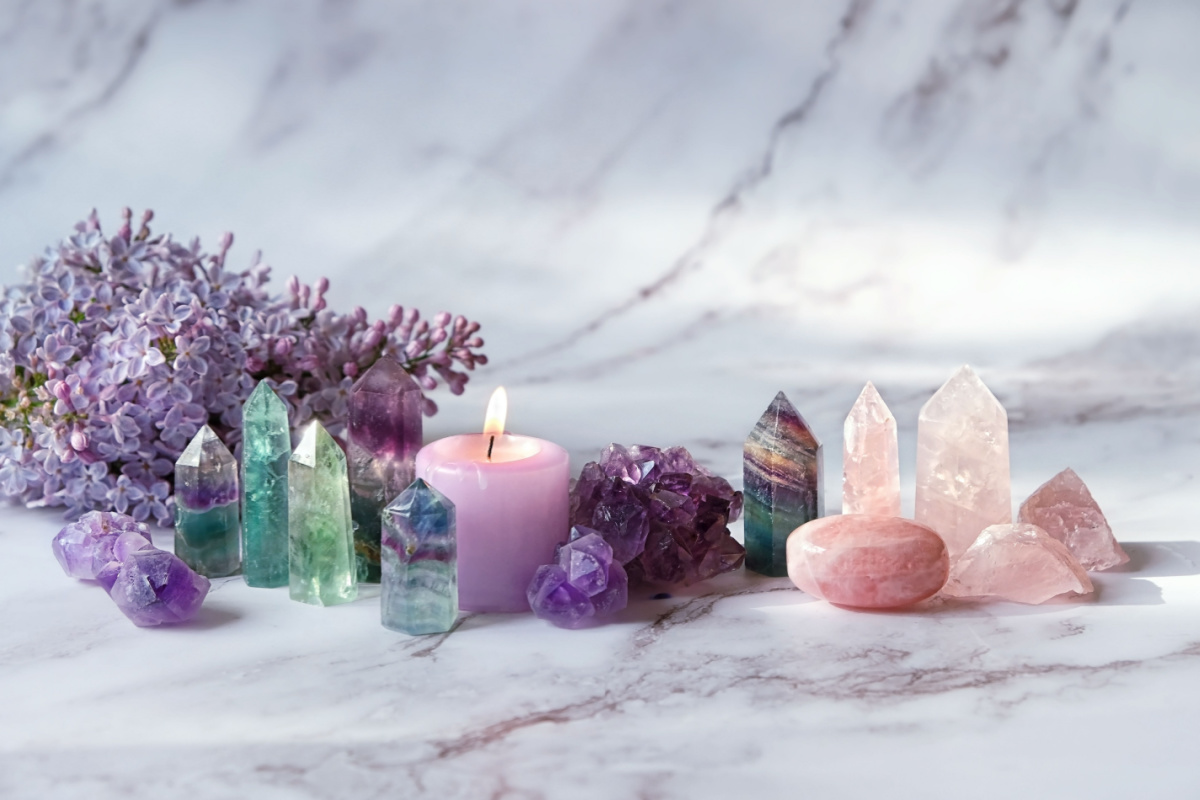 Which crystals are good for attracting romantic love?
In life, relationships with our partners are some of the most enriching bonds we can have as humans. Romantic relationships heal us as much as they can leave us with a broken heart!
However, you might find yourself struggling with toxic relationships, negative energy, or craving a healthy, loving relationship that lasts.
Love stones can help soothe old wounds from past relationships, opening the path to emotional healing that will allow you to forge a lifelong connection with someone else, fuelled by positive energy.
Finding a potential partner that's perfect for you isn't always easy, we know, but these crystals are guaranteed to help:
Rose Quartz
The most famous love stone of all must be the Rose Quartz. This isn't all there is for attracting romantic love, but it certainly is the most popular gemstone for this purpose! It's been tried and tested by thousands of crystal lovers like ourselves, that's for sure.
A beautiful pink stone, Rose Quartz is perfect for opening up the heart, boosting your self-belief and dissolving old hurts and mistrust.
This is the crystal for the heart chakra – warm, comforting and gentle, through and through.
Emerald
When you think of crystals for attracting love, green crystals like Emerald might not come to mind right away. It's an often-overlooked gemstone, but an extremely powerful one nonetheless.
For those seeking adventurous relationships, filled with passionate energy, Emerald gets the job done! By activating your heart chakra, Emerald encourages you to make choices borne of love and compassion.
We recommend wearing your Emerald out of sight, close to your heart. This way, it truly opens your heart up to the energies of universal abundance, helping you to free yourself from heartbreak and welcome future prosperity in both happiness and wealth.
Garnet
Garnet is an incredible stone for manifestation, and whilst Garnet comes in a variety of different types, wearing Pyrope Garnet crystal jewellery has been known to bring dream romantic relationships into reality.
Long-term relationships are built on an equal exchange of love, without shame. Garnet releases pent-up guilt and shame so you can feel worthy of love, and far more amenable to receiving it!
Crystals for familial bonding
At Psychic Sofa, we've written many articles about the importance of familial bonds. This includes articles on Father's Day gifts, and much more! Ultimately, we understand that humans are social creatures; our families are the most important support network for our healthy growth and development.
If you're interested in a crystal reading from one of our psychic experts, we can give you insight into understanding and developing your familial bonds. Whether you're currently experiencing a difficult time or perhaps looking to get in touch with a distant relative - no matter the query - we can help you find a deeper connection through a mix of crystals and the different energies they possess.
Good crystals for attracting familial love and promoting familial bonding include:
Ruby
Ruby is the stone of commitment and trust, infused with the properties of spiritual healing.
A good foundation of trust and understanding between one another – whether parent and child or sister and brother – is essential for upholding a strong family bond that lasts.
This is also appropriate for healing past issues, if, sadly, resentment has built up between you and your loved one.
Citrine
Citrine is by far the bubbliest gemstone of all! Bonding with family members really benefits from a lightened mood in the home, and an atmosphere that promotes joy, laughter, abundance and good fortune.
Bursting with love and happiness, Citrine is a must-have for forging an enjoyable and fun-filled relationship with your family, founded on positive energy.
Crystals to boost and bring lifelong friendships
Solid friendships make the world go round! We never forget our childhood best friends, or our university roommates. The impact a good friendship can have on your mind and soul is undeniable.
If you're feeling in need of a lifelong friendship to better your current circumstances, or want to focus on improving the friendships you already have, we've got a crystal (or two!) in mind for you.
Blue Lace Agate
The best healing crystal for bringing a lifelong friendship to you is, without doubt, Blue Lace Agate. Blue Lace Agate is about trust and loyalty, but also communication.
When you're tending to a friendship for the long-term, being able to talk openly with one another is so important! Blue gemstones like Blue Lace Agate can help you in becoming a good listener, but also good at sharing your feelings; the perfect combination for a fabulous friendship!
Watermelon Tourmaline
The soft pink and green colours of Watermelon Tourmaline testify to its healing properties. It brings the best out of your heart chakra to remove buried insecurities, giving you the strength to seek out positive friendships with the people you love.
A stone inextricably linked to Mother Nature, Watermelon Tourmaline can also help you connect to your friends on a deeper, more precious level.
Psychic Sofa is here for you, through love and heartbreak
Still wrestling with matters of the heart, crystals and all? At Psychic Sofa, our in-house experts provide you with valuable insight on matters of love, life and what the future holds for you.
For more information, get in touch with us today. Our impressive readers await your call!
Comments
No comments have been made yet
Create a Psychic Sofa account today!
Join the Psychic Sofa Community Today and get access to:
Get notified by (FREE) SMS text when a reader becomes available!
Latest offers and members only exclusives
Add favourite readers to your profile