8 Simple Ways To A Spiritual New Year!
While it's easy to make the same old new year resolutions every January, it's even easier to forget all about your good intentions by February! Instead of pledging to exercise more and drink less, try adding a sprinkling of spirituality to your life!
Make 2018 the year you add an extra does of spirituality to your life.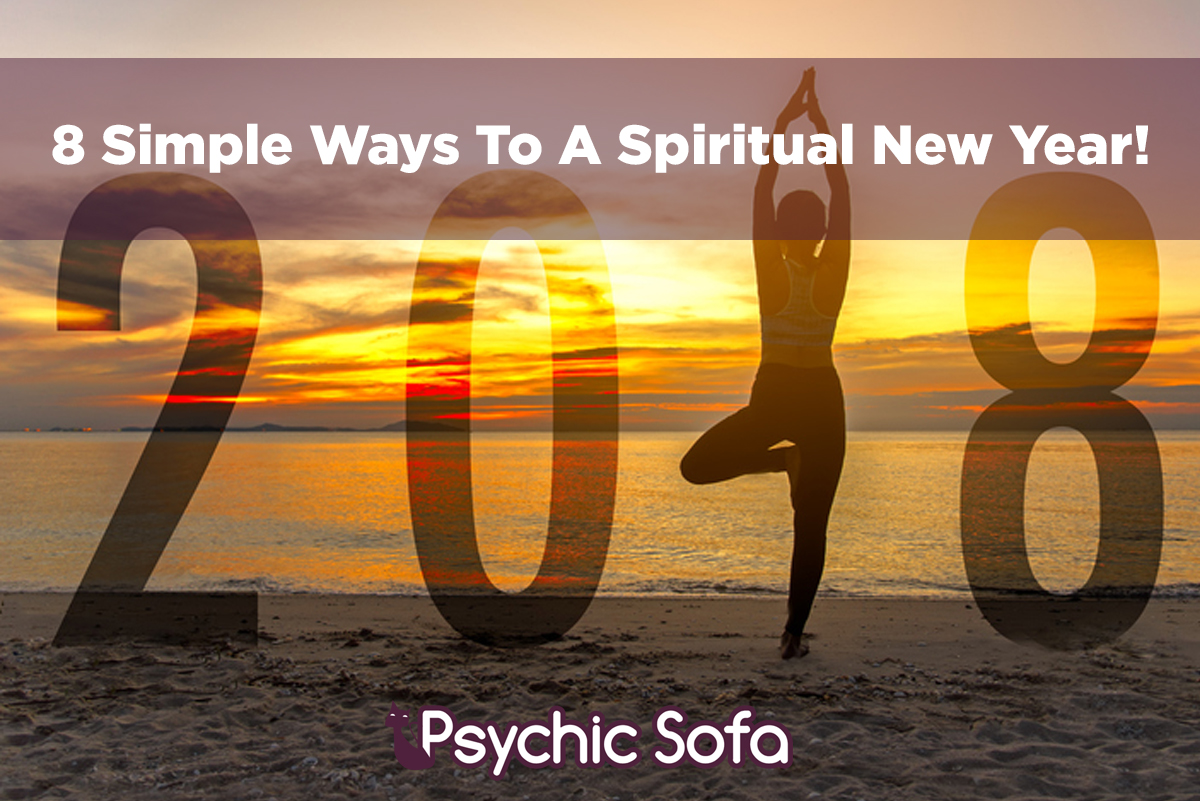 While it's easy to make the same old new year resolutions every January, it's even easier to forget all about your good intentions by February! Instead of pledging to exercise more, drink less or eat the latest fad foods, try adding a sprinkling of spirituality to your life. By making spirituality a part of your daily routine, you will be changing your life for the better from the inside. The spiritual changes you make within yourself will ripple outwards positively effecting all aspects of your life, from your confidence to your love life to creating success and fulfilling your dreams.
1. Glow from within
You don't need to rush out to buy expensive face creams or make-up to enhance your physical appearance. The most attractive people glow from within. One way to cultivate your inner glow is to learn self acceptance. Because if you don't like yourself - how can you expect others to like you? So make the changes you want to make in your behaviour and habits, then accept yourself for who you are. Silence the voice in your head that tells you you're not good enough. It's not true. You're great as you are!
2. Feel happier
Who doesn't want to feel happier? It's top of most people's resolutions list. But how on earth do you achieve it? One simple spiritual way to increase your happiness levels is to count your blessings. It's called gratitude. Being grateful for all the good things you have in your life, such as your home, your family, your friends, your eyesight, your hearing, your talents - the list is almost endless if you think about it. Start a gratitude journal and list three things everyday that you have to be thankful for - you will most definitely feel happier.
3. Improve your concentration
So how do you move closer to your goals, excel at work and generally become more successful in every area of your life? By improving your concentration, of course! If you are able to focus on one task without getting distracted (social media, anyone?) you are more likely to succeed at whatever you try. You can easily improve your concentration by meditating everyday. Just ten minutes daily will help focus your mind. What are you waiting for?
4. Find love
Almost everyone wants to find love and romance. But your spiritual new year love resolution should focus inwards not outwards. Because before you can find your love match, you have to love yourself first. So get to know who you are - your likes, dislikes, your hobbies and dreams before you go searching for your soulmate. If you are confident and comfortable within your own skin the relationship is much more likely to be a success.
5. Feel joyful
Life is meant to be enjoyed. As you grow in spirituality, you'll discover that the small pleasures far outweigh the fancy expensive money-driven treats. One spiritual way to feel joyful is to practice self-care. In a physical sense, this means taking care of your body. So do things you find enjoyable - take a long bath, go for a walk in nature, listen to your favourite music, cook for a loved one, burn essential oils. Take time to look after yourself.
6. Feel healthier
Do you think of mealtimes as a hassle, or perhaps you often feel guilty for over-indulging? Turn mealtimes into sacred time by eating mindfully. This is very easy to do - honestly! It's just about slowing down your mealtimes, giving yourself time to appreciate what you have. Set aside at least 15 minutes to eat every meal. Sit at a table to eat. Try to only consume nourishing foods. Take your time eating, don't rush! Chew each mouthful slowly, appreciating the flavours and texture of the meal. Be grateful that you have enough nourishing food to eat.
7. Grow in knowledge
Learning new things is a win-win situation. As you gather knowledge, new ideas will unfold to you, potentially leading to new business opportunities or new more positive ways of life. Try new spiritual experiences this year, such as courses, workshops, or festivals to make friends and find what sort of spirituality suits you best.
8. Feel content
There's no better feeling than being content with your life. More exciting emotions, such as the thrill of exhilaration quickly fade. Contentment endures. Take the first step towards contentment by being compassionate towards others. If you approach people and situations without judgement, you will become calmer, more likable, more positive and contentment follows.
Comments
No comments have been made yet
Create a Psychic Sofa account today!
Join the Psychic Sofa Community Today and get access to:
Get notified by (FREE) SMS text when a reader becomes available!
Latest offers and members only exclusives
Add favourite readers to your profile