What Is The Spirit Of Christmas?
Each year, we hear a lot about the 'spirit of Christmas' - it's been spoken about since we can remember, and it seems to be a turn of phrase that's here to stay, but what does it actually mean?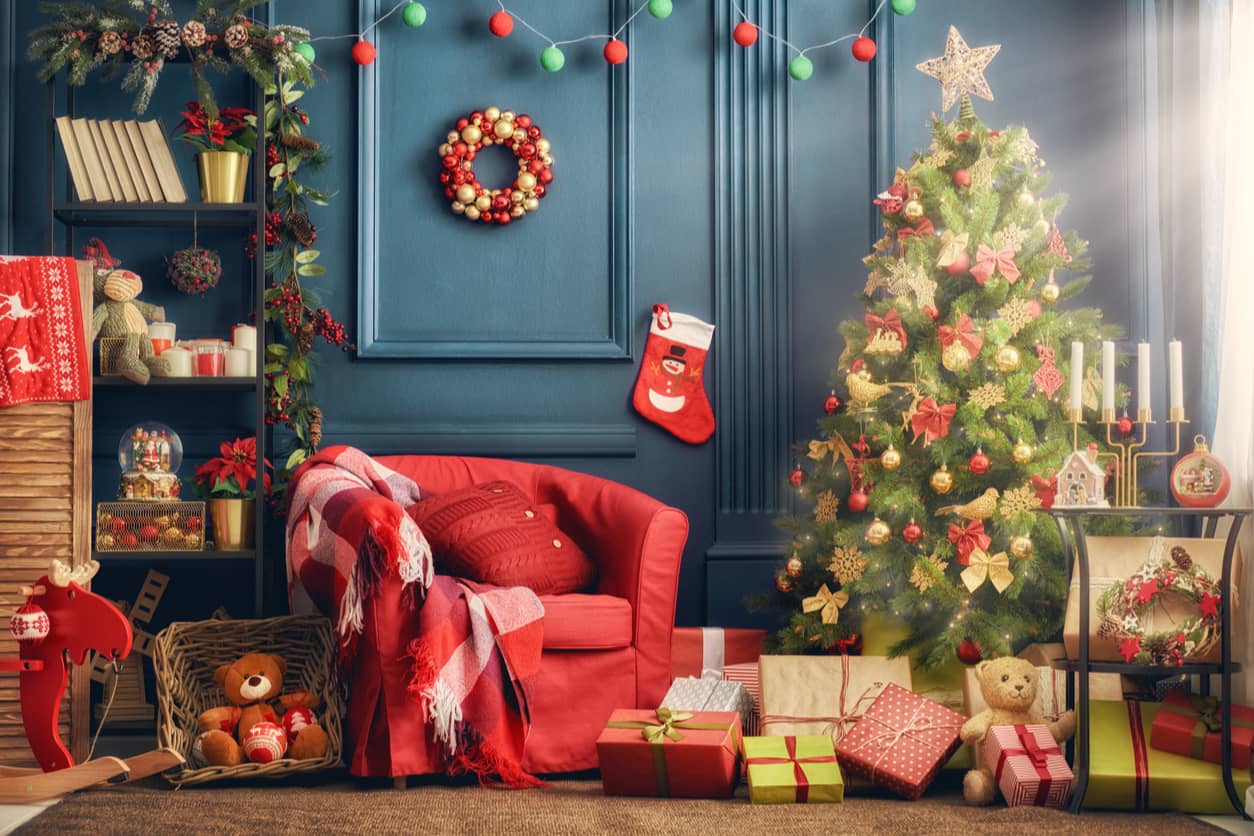 Each year, we hear a lot about the 'spirit of Christmas' - it's been spoken about since we can remember, and it seems to be a turn of phrase that's here to stay, but what does it actually mean? The spirit of Christmas can be defined in many different ways, but throughout all of them, the same common themes arise, which gives us reason to believe that there is a little more to the idea of Christmas spirit than meets the eye. In this blog, we aim to outline what these themes are, so that you can learn to embrace this spirit a little more this year, allowing you to feel more connected and spiritually aligned this festive period.
If you're interested in finding out more information relating to the spirits around you, or are wanting to connect to your spirit guide, we encourage you to get in touch with Psychic Sofa today! Our talented and trusted psychic readers are always on hand to help you find the guidance you're looking for, so please contact us to enquire about our telephone psychic readings on 09057897752 (calls cost 80p per minute plus your network access charge) or on 01618640152 to speak to one of our psychics today.
'Tis the season…
With Christmas fast approaching, the spirit of Christmas is now all around us, but what does that actually mean? Well, Christmas spirit is likely to mean something slightly different to us all, but the basic idea remains the same throughout - Christmas is a time to be more accepting and respectful, spreading peace, love, and happiness to those around us as we see out the year and welcome in the next. With the temperatures dropping, decorations up, and mulled wine at the ready, let's take a look at how we can channel the spirit of Christmas!
The gift of giving
The Christmas period is one unlike any other when it comes to generosity and offering a helping hand. Although we do strive to be helpful and generous throughout the year, the festive period does seem to be one in which we see more people willing to go the extra mile when it comes to aiding those less fortunate than themselves - which is a fantastic show of humanity and community spirit. From food donations to ensure that everyone has a hearty meal on their plates this Christmas, through to gift donations for children who may not have been getting a visit from Santa this year, there are many ways to help out those who are less fortunate than yourself.
Being appreciative for all that we have and hold dear
As an extension of the gift of giving, Christmas also tends to be a period that's great for reflection and gaining a deeper appreciation for the privileged lives that we lead. Whilst we may all be guilty of forgetting how lucky we truly are from time to time, the festive period can often serve as a reality check, reminding us that there are people in our community who may not be able to share the joy that Christmas brings for so many. This time for reflection and appreciation is very fitting for the end of the year, where we often look back at the last 12 months to see where we excelled, where we could have improved, and where we want to get to in the future.
Helping others at Christmas
Christmas is a time for togetherness and support, so it's no surprise to see that the spirit of Christmas heavily focuses on the idea of charity and helping those in difficult situations find happiness at this time of year. No matter what your circumstances are, there's always a way for you to offer something over Christmas time, and whether it's through cash donations, gifts, food and drinks, or simply offering another pair of hands to help get these donations sent out to the places that need them, you'll be able to get stuck in and ensure that everyone has the best Christmas possible.
The importance of Christmas spirit
For many, the spirit of Christmas is the driving force behind the holiday and without it, there is no Christmas at all. Whilst this may seem extreme, the sentiment behind it does stand to reason - without buying into the spirit that the festive period brings along with it, you will likely find it hard to properly celebrate and appreciate the joy and happiness that the festival brings, so it's incredibly important that you understand and embrace the Christmas spirit. This has never been more relevant than in a year as chaotic as 2020 has been where the year seemed to go from bad to worse at times, with little sprinklings of hope and excitement popping up in the eye of the storm. Christmas is a happy time for many, but not all, and this means that those in more privileged positions have the opportunity to help improve the lives of others around them so that they can enjoy Christmas for what it is: a happy, joyous occasion spent with friends and family, without worry of gifts, money, or going hungry. If you want to help out those in a less fortunate position this Christmas, you can find some ways to get involved here!
How to embrace the spirit of Christmas in 2020
Now that you have seen how important the spirit of Christmas is, you're probably wondering how you can start to open yourself up and start to get in the festive spirit! It's actually rather easy to start embracing the Christmas spirit - you simply need to release your negative energy and replace it with the happy, generous, and wholesome energy that the Christmas period brings. If you're having trouble processing your negative energy or would like some guidance from a higher power on how to expel this negativity from your life, why not take part in one of our trusted psychic readings? Our talented psychic readers will be able to feel your energy and connect to your spirit guides, who will in turn present advice or guidance to help you stay on the right path forward. This can often include guidance on expelling negative forces surrounding you and keeping positive energy sources close, so be sure to listen to and accept the knowledge you gain from your psychic phone readings or online psychic readings.
Here are a few things that you can do to start getting into the festive mood this christmas season:
Decorating your house: Very few activities will get you ready to step into Christmas like putting your decorations up will! Whether it's decorating the tree, putting the lights up, or just lighting a few festive scented candles, everything contributes to the overall Christmas ambience.
Baking festive treats: This is something that the whole family can get involved with, no matter their age or skill level. Sweet treats are a staple Christmas item, so why not try your hand at making your own? It's super simple and helps everyone to get into the spirit of Christmas!
Listen to Christmas songs: Perhaps our favourite part of Christmas - the songs! From Elton John and Wham! to Mariah Carey's classic, everyone has their own favourite festive tune, so stick them on, tuck into your cookies, and celebrate as a family in front of the fireplace.
Get involved in charity: As we've mentioned, Christmas is a time for giving and generosity, so if you've got the time, you could consider volunteering at your local food bank or shelter. Sadly, Christmas is often the busiest time of the year for these facilities, so they would definitely appreciate any help that you can offer.
If you're interested in having a psychic reading online or by phone, simply get in touch with us
Remember what's important during Christmas
This is a particularly fitting topic at the end of a year such as 2020, where our priorities were flipped upside down along with the rest of our lives, meaning we've often lost sight of our priorities over the course of the year. The issue of losing sight of priorities is something that has long been a problem at Christmas time, with many choosing to focus on the value of gifts as a barometer of affection, as opposed to effort, care, and attention. This capitalist encroachment upon the holidays is a huge reason for people finding it difficult to really embrace the Christmas spirit, so it could be a good time to eliminate the idea of money measuring how good a gift is and instead focusing on the effort that somebody has gone to or how hard it may have been for that person to have been able to get you the present. It may be easy to disregard smaller presents when faced with more expensive and extravagant gifts, but you must remember that it's the effort that is the most important thing, not the value. By thinking in this way, you'll be able to be more appreciative of your Christmas on the whole and will be able to recognise your privilege, which will likely help you to be more generous over the festive period too!
No matter how you're choosing to celebrate Christmas this year, we wish you a very merry Christmas and hope that it is filled with happiness, generosity, and humility. If you're interested in advancing your spirituality search, please contact one of our trusted psychic readers for a phone psychic reading or online psychic reading today! You can call our trusted psychic readers on 09057897752 (calls cost 80p per minute plus your network access charge) or on 01618640152, where you'll be connected to one of our available psychics.
Comments
No comments have been made yet
Create a Psychic Sofa account today!
Get access to exclusive account features such as:
Psychic Sofa Wallet
10% extra free minutes
Online & phone top ups