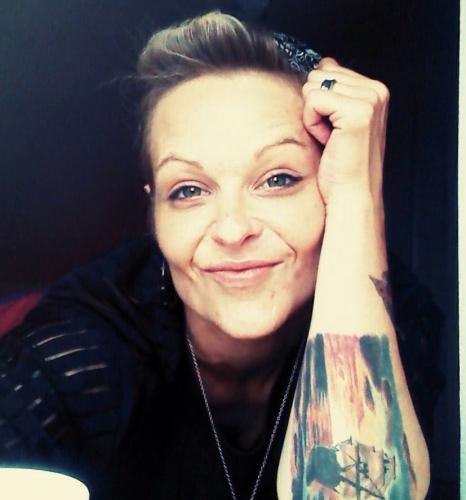 offline
PIN: 4326
Login or Regsiter to add River to your Favourites
More Readers
Psychic Reader Profile: River
Angel Cards, Angel Tarot, Spiritual Guidance/Intuition
I'm River and I'm a natural intuitive. My mother's family are of Romany Descent so Clairvoyance & Psychic ability runs through my lineage. My father's side of the family are also highly tuned on a spiritual level, most of my family are psychic to different degrees, some practicing some not but the majority of us have the gift of depth and insight.
I very much work at an intuitive level & have a mixed skill set depending on the work I am doing, who I'm working with and to what capacity.
I use cards, crystals, sound and different 'Clairs' such as Claircognizance which simply means 'Clear Knowing'. I work in the way best suited to my guides and the guides of my clients.
What do you like most about giving readings to clients?
To read for others is both an honour and a huge responsibility. I'm incredibly humbled by spirit, to be on this path is something that always astounds me even after all these years.
There are many blessings to my work and one of my favourite parts of reading for clients has always been inspiring people to see their worth. Uplifting people is an amazing aspect of working psychically, showing people they are loved & understood is the real gift and it's what I'm here for.
How would you say you are typical of your star sign?
I am definitely in sync with my star sign !! Scorpio is a water sign and very much linked to the emotions. I am a highly sensitive soul, empathetic, sentimental & reflective. Scorpio's are known too for their passionate and fiery natures and I resonate with both but we are also widely misunderstood, for the typical loyal Scorpio will not usually sting unless first feeling deeply wounded.
As for turning on ourselves, this is an ongoing lessons for most scorpions.... myself included, for I am my own worst critic !
When do you remember being first aware of your gift?
My first psychic experience happened in childhood yet still I wouldn't say I was ' aware ' as such at that time. Fast forward a few years and things were becoming more apparent but they were far from sinking or rather ' syncing ' in. It all began in dream form for me, prophetic dreams would come & go with some intensity and due to the content I was somewhat terrified and confused by them. They were mostly about people passing over, not only my own relatives but the relatives of neighbours or family friends.
I understand such dreams now to be a nudge from spirit to prepare for news that may be difficult for myself or those close to me and I still have these dreams today.
What is your most memorable experience with a client?
One memorable experience was a lady who'd being privately worrying that her son in spirit wouldn't know where to find her since she had bought a new home after his passing. The night before a life guidance reading with her I dreamt of a young male showing me around his mother's new home, the decorating, the contents of her dresser and he gave his love and blessing for her fresh start. The reading was later than expected due to circumstances but really, he had orchestrated the whole thing so as it fell on an important anniversary. Although it was never meant to be a mediumship reading her son fully grasped the opportunity to make contact ...
What other experiences or qualifications do you have that you feel compliment your work as a reader?
In life I have had many blessings & many losses. I've a vast amount of life experience under my belt which definitely has much to do with my path and my methods of reading. I use varied styles, love the familiar and love learning new ways to be of service. I believe we are all learning & teaching simultaneously, everybody & all walks of life. I am predominantly an Energy Healer trained in different modalities such as Spiritual healing, Reiki ( both people & animals) Emo Trance Practitioner ( EFT) and I'm also a qualified Death Doula whereby I work with various spiritual practices, Healing, Sound Therapy.
I ultimately want everyone to realise that Love is the only Truth and everything else is, well' just everything else 💚
What is the most important thing for a person to consider when they decide to have a psychic reading?
There are many important aspects to consider when deciding to have a psychic reading. Readers have different expertise & paths, I for instance am a psychic but I don't work heavily with predictions. I am an Indigo/a Lightworker meaning I am on a unique path of teaching love, spiritual truth and how to enhance your life in order to find your true purpose ,or at least your joy so as your purpose can find its way... If you are looking for answers are you ready to make changes in order to honour them ?
Therefore important to consider when choosing any type of reading is to go into it with an open heart & an open mind so as to truly reap the benefits of your reader's particular skill in sharing guidance. Readers should always be compassionate and sincere and leave you feeling inspired & ready to face any positives & challenges on your own unique and beautiful journey. Fate is changeable and YOU are ultimately the creator of your life
Pay by Phone
0905 789 1111
When prompted, enter pin 4326
Calls cost 80p per minute plus your network access charge. All calls recorded. 18+. Entertainment purposes only. You must be the bill payer or have the bill payer's permission. We may send free promotional messages. Customer services & marketing opt out 0161 607 3013
Pay by Credit/Debit Card
0161 864 8555
When prompted, enter pin 4326
Credit/Debit cards: £16.80 for 20 mins, £24.60 for 30 mins & £48.00 for 60 mins including vat. Terms and conditions apply. Money back guarantee on debit/credit card telephone readings (see help pages). Wallet readings available on this service.