What to Expect from a Psychic Reading
If it's your first time doing a psychic reading, you might be unsure of what to expect. Read more about psychic readings in Psychic Sofa's blog here.
Are you interested in a psychic reading? The rising popularity of the world of witchcraft, tarot cards, and crystals has paved the way for psychic readings to enter the mainstream.
The number of individuals who wish for spiritual guidance through psychic readings is slowly growing, which leads us to another question: what can you expect from a psychic reading?
The Psychic Reading Experience
Trust is a crucial component during a psychic reading, which is why it's important to the psychic advisor that they build a rapport with you throughout the session. This should help you feel more comfortable in sharing details about your life, and at ease in allowing them access to these details.
Psychic readings are intimate, no matter if that's an online psychic reading or a face-to-face one. During a typical reading session, you can expect the psychic reader to be calm, understanding, and respectful.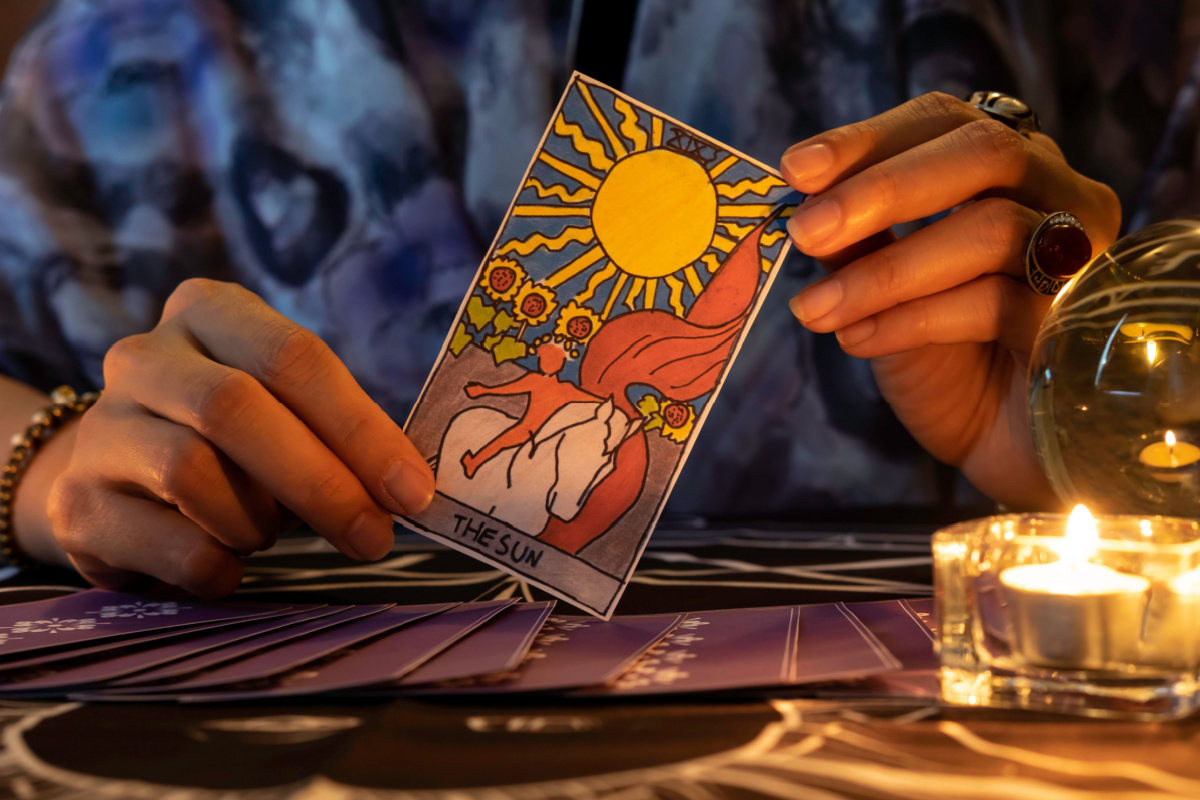 The Various Types of Psychic Readings
There are different types of psychic readings to choose from, depending on the type of psychic insights that you wish to receive, including:
Astrology - learn more about celestial influence in your life, namely how your time, date, and location of your birth (natal chart) affect your future
Clairvoyance - psychic clairvoyant readings allow you to delve into the spiritual world, helping you navigate your past, present, and future through the reader's gift of extrasensory perception
Dream Interpretation - recurring or strange dreams might have hidden messages waiting to be deciphered; dream analysis can help reveal these messages
Mediumship - psychic medium readings can connect you with spirits that have passed from our world, with help from a psychic medium - this style of reading is a staple of some of our own Psychic Sofa readers
Tarot - tarot cards can be used as a psychic reading tool, with tarot card reading assisting with fortune telling
And more…
How to Prepare for a Psychic Reading
When you've booked a psychic reading, you might want to be mentally and emotionally prepared for the experience. Seeing a psychic can take a toll on you, especially if you're on a quest to seek answers about meaningful and personal aspects of your life.
Prior to the session, you should:
Ask yourself which specific questions you want answered
If necessary, prepare a list of questions
For a telephone or online psychic reading, ensure that you're in a space with minimal distractions
You might also be asked to bring a specific type of item (such as a photograph) as an aid for psychic medium readings, but this is dependent on the reader.
Only See a Psychic You Can Trust
When it comes to finding a private psychic, it's key that you only see one that you can trust and rely on. Psychic scams are common in the UK and use a number of different methods to approach victims.
A reputable psychic, from trustworthy psychic reading websites like Psychic Sofa, will be ethical and honourable, respecting your privacy and boundaries, and will never:
Claim to have winning lottery numbers or a lucky charm that could be obtained with a fee
Ask for monthly payments to maintain your good luck
Start a conversation with you first unless you have booked a psychic reading
The above could indicate that you're dealing with a scammer, not a genuine psychic.
At Psychic Sofa, you can rest assured that our psychics are friendly and distinguished, with real testimonials from happy customers to read and review.
Choose from a telephone reading your choice for a message-based reading with esteemed psychics from Psychic Sofa.
What to Expect During a Psychic Reading
Here's what to expect during a psychic reading:
Initial conversation with your chosen psychic, introducing themselves and offering a brief overview of what you can expect from them
Introduction to the psychic's tools and methods, which can range from tarot cards, crystals, crystal balls, runes, and more
As the psychic connects with you, they'll offer their insights and spiritual guidance on what they feel and see regarding your questions
You'll have the opportunity to ask further questions and seek clarification to better understand what they've shared
What to Expect from Your Psychic Reading
Every psychic reading is different because people will often come with different or similar questions with separate answers. So, you can expect:
Potential outcomes and messages to dreams and questions
Unexpected or challenging information that you might need time to process and deal with - this is sometimes common in love readings, but remember that readings can guide you to better paths
Intuitive answers that require interpretation - the psychic will offer their own interpretation, but it can also be explained in other ways
Having an open-minded approach to psychic readings can help you develop a profound understanding of what you've learned during the session.
How to Make the Most of Your Psychic Reading
You might be wondering how your psychic reading can help you in the real world. To make the most out of your reading, you should:
Go in with some questions in mind that can help guide the reading. For instance, you might be asking yourself 'why do I keep seeing angel numbers everywhere?'. The medium can then help you interpret the reasons.
Trust your instincts - intuition plays an important role in your spiritual journey, so don't be afraid to believe in your gut instinct
Use the psychic insights to aid and inform your decisions
Take time to self-reflect after a reading; do you have more questions or are you now determined to embark on a journey of discovery?
After Your Psychic Reading
It can take some time to fully understand the information you've been given after a psychic reading. Here's some useful post-reading tips:
Keep a journal of your psychic experiences/what you've learned from the reading
Take action based on the insights gathered from the reading - heed your psychic's advice!
Meditate! Meditation is a great way to help you navigate and identify your emotions after a reading
Some individuals might only book a psychic reading once, but once is all it takes to spur you on a healing journey that's guided by spiritual acceptance, a desire for learning, and personal growth.
Ready for Your First Reading? Speak to a Psychic Today
Psychic Sofa is a leading provider of telephone psychic readings. With over 25 years of experience in delivering private psychic readings, you can count on our services to provide you with the psychic guidance that you need.
Browse our selection of qualified and experienced Psychic Sofa readers to find the ideal psychic reader for you.
Comments
No comments have been made yet
Create a Psychic Sofa account today!
Join the Psychic Sofa Community Today and get access to:
Get notified by (FREE) SMS text when a reader becomes available!
Latest offers and members only exclusives
Add favourite readers to your profile