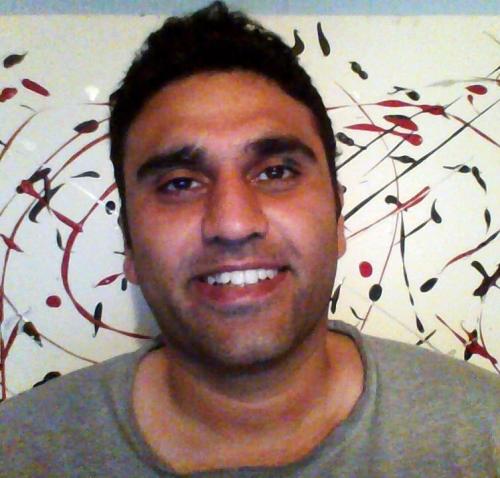 offline
PIN: 4795
Login or Regsiter to add Minesh to your Favourites
More Readers
Psychic Reader Profile: Minesh
Psychic Clairvoyant - Medium - Tarot Cards
Hi my name is Minesh and I started this journey when I was a child always seeing and feeling spirit around me helping to expand my understanding of this very special world that spirit inhabit. It has stayed with me into adulthood and helped to shape me as a spiritual being wanting to help others and spread the awareness of these wonderful energies that coexist within our world. I have given many readings in which people have gained a greater insight to their life helping to overcome great difficulties they have faced. I also sort out spiritual guidance and had a number of readings which have benefited my life and helped to understand why I experienced upheaval's and difficulties. In the same way I was helped by the spirit world I hope to help others through the wonderful and non judgemental way of spirits soothing energy!!
What do you like most about giving readings to clients?
The best part of giving readings is the feeling of helping a individual to realise their potential and in some cases they themselves have a hidden psychic talent which is incredible to uncover! It is so heart warming and satisfying when a person has their questions answered but also understand what they can do to solve their dilemma. I have given readings where the person has lost hope but with my highly advanced spirit guides, together we have found a way of restoring faith and hope through guidance and sensitivity. I enjoy the interactions and meeting people from different backgrounds learning about the differences within our diverse society! For me spirit is a way of life and helped me to become a grounded individual and I hope through my insightful readings it will help to create a positive energy across the world!
How would you say you are typical of your star sign?
As a leo I am very sensitive and in tune with how other people feel which is vital in my role and chosen path as a spiritual being. I really gain great satisfaction knowing the positive impact I can have on others around me making them successful. I also am ambitious and want to be king of my jungle!!! Through my spiritual grounding I have learnt to curb that ferocious drive and channel all that positive energy into helping other people and not be selfish which can be a trait of a Leo!! Even so this drive and ambition has been helpful to lead a successful and fruitful life aiming to achieve great things and the sense of being at peace with myself.
When do you remember being first aware of your gift?
When I was 7 years old I recall always running into my mum and dads bedroom at 3am which of course is a spiritual time where certain entities walk the earth and I could hear voices in my room and had dreams of beings which I could not describe. I understand now that it was spirit trying to communicate and reach out to me which was quite scary at the time! After that experience I began to notice my sensitivity around other people and the feeling of future events which caused me to become isolated from children my own age not understanding my sensitivity creating real sadness within my soul. In reflection I am happy to be part of spirit despite my difficult childhood and the realisation that life can be strange and confusing but also a wonderful experience from which I can be closer to spiritual freedom from the chains of everyday life!
What is your most memorable experience with a client?
The most memorable experience I have had recently is whilst giving a reading I talked about a young male who came through from spirit talking about going back to the football stadium. At the end of the reading the client disclosed his best friend had died a month ago whilst playing football! This was amazing as I had never met the client before and have no way of knowing this information and it was comforting for the client knowing the young man had passed over peacefully and was symbolic as the spirit of the young man went back to the place he crossed into the spirit world. There are other examples that I could list as evidence of the spirit world like names, future events, feelings which I have given to clients but that recent reading was incredible. I also picked up on sensitive information which the clients family was not aware of so it always is a surprise!
What other experiences or qualifications do you have that you feel compliment your work as a reader?
I obtained a social welfare degree which also covered psychology that has helped me whilst communicating with clients and people around me. This knowledge has given me the ability to deliver messages with sensitivity and understanding solving complex social dilemmas with my training in social sciences whilst a student at University. The spiritual world can be full of interesting information but also sensitive revelations which need a degree of care and accuracy whilst delivering messages from the other dimensions! The most important experience I bring to the readings is my own struggles and successes helping to demonstrate with spirit by your side anything is possible!!!
What is the most important thing for a person to consider when they decide to have a psychic reading?
To have a open and sensitive mind willing to have an experience which will be beneficial in a personal way direct from spirits warmth and guiding light. Healing sore hearts in order to be happy enjoying the challenges of life! It is important to remember psychics do not have all the answers but can try to give clues and advice which leads to answers solving dilemmas the individual faces. We are all human beings who have desires and wants but have to walk separate paths which can lead to happiness! We have to work together to achieve our greatest dreams through one to one readings and ones own reflection upon the challenges they may face.
Pay by Phone
0905 789 1111
When prompted, enter pin 4795
Calls cost 80p per minute plus your network access charge. All calls recorded. 18+. Entertainment purposes only. You must be the bill payer or have the bill payer's permission. We may send free promotional messages. Customer services & marketing opt out 0161 607 3013
Pay by Credit/Debit Card
0161 864 8555
When prompted, enter pin 4795
Credit/Debit cards: £16.80 for 20 mins, £24.60 for 30 mins & £48.00 for 60 mins including vat. Terms and conditions apply. Money back guarantee on debit/credit card telephone readings (see help pages). Wallet readings available on this service.