Everything you need to know about birthstone crystals
Find out how your birthstone crystal can provide healing and metaphysical properties to you. Learn how to harness this powerful tool for positive change.
Birthstone crystals are precious gems that are associated with each month. This article will delve into everything you need to know about birthstones, including the different birthstone crystals, along with their properties and how they can have a positive impact on your life.
At Psychic Sofa, we're here to help you find the positivity and power in your life. psychics are ready to help you find the love & light in your life.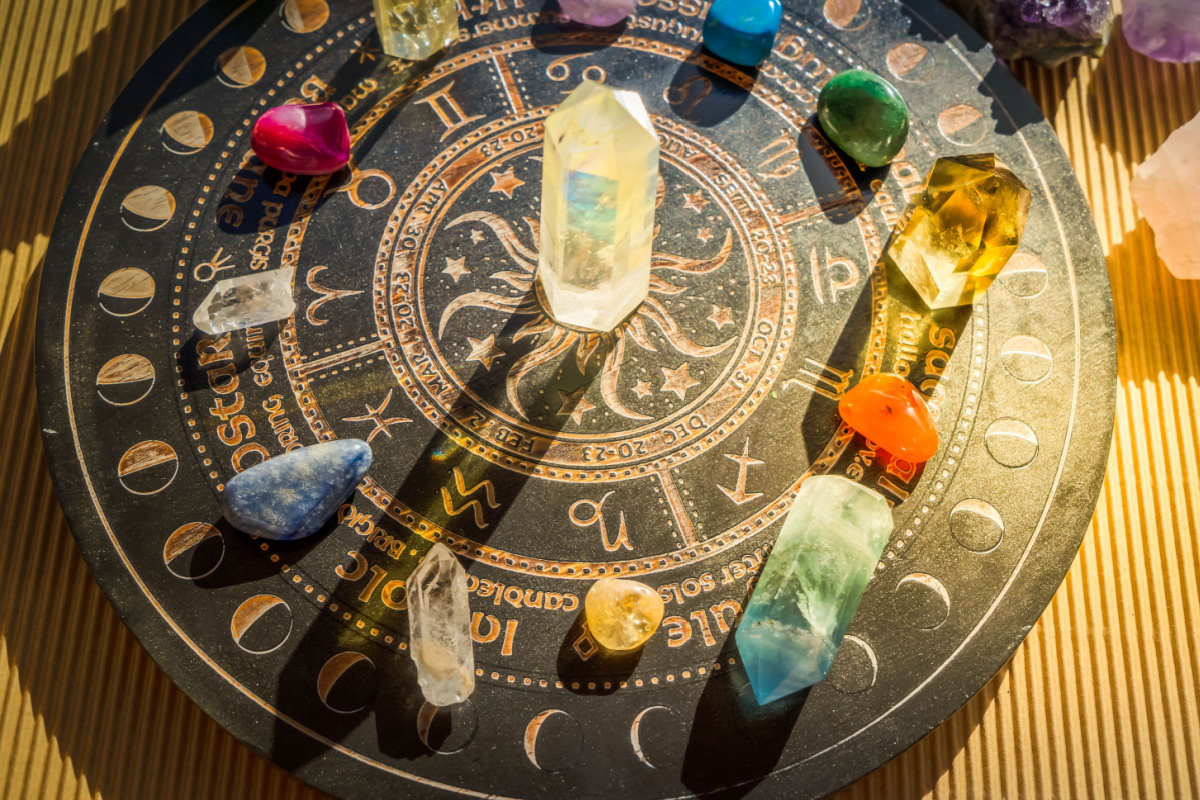 Birthstone Crystals and Their Meanings
Birthstone crystals date back to Biblical times when the twelve jewels represented the twelve sons of Israel. Other historians claim that birthstones originated from astrologers who assigned unique traits to each gemstone which led to the gems soon after being recognised as birthstones.
Let's delve into each unique birthstone and its properties.
1. January Birthstone: Garnet
Garnets tend to be red and are thought to represent love, luck and loyalty, because of their links with blood, the heart and fire.
2. February Birthstone: Amethyst
Amethysts are a purple form of quartz crystal, and are thought to offer emotional and mental strength.
3. March Birthstone: Aquamarine
Aquarmines are the ocean colour of blue, offering hope, eternal youth, and happiness.
4. April Birthstone: Diamond
Well-known for its colourless or white variety, the diamond birthstone symbolises strength and clarity.
5. May Birthstone: Emerald
This vivid green birthstone encourages spiritual growth and helps to improve the quality of life for the better.
6. June Birthstone: Pearl and Alexandrite
Whilst the pearl tends to be white, it can come in a multitude of iridescent colours. The birthstone is associated with purity and innocence.
Meanwhile, the Alexandrite changes colour from green to red, it symbolises good fortune and acceptance of change.
7. July Birthstone: Ruby
This bright red birthstone represents creativity, compassion and loyalty. It can enhance concentration and energy.
8. August Birthstone: Peridot
This vivid green birthstone is thought to help aid good health, harmony and peacefulness.
9. September Birthstone: Sapphire
Sapphires are velvety blue and represent truth, sincerity, dignity, and faithfulness. They are also thought to represent wisdom
10. October Birthstone: Opal and Tourmaline
Opal symbolises purity, faithfulness, trust, and innocence. Meanwhile, Tourmaline offers healing properties such as compassion, tenderness and courage.
11. November Birthstone: Topaz and Citrine
Citrine provide yellow and orange tones. Meanwhile Topaz comes in a palette of colours, symbolising love and affection. Both birthstones are thought to provide claiming energies.
12. December Birthstone: Tanzanite, Zircon, and Turquoise
Turquoise is a symbol of good fortune and success. Tanzanite is claimed to turn negativity into positive. Zircon is believed to ward off evil spirits.
How Can Birthstones Influence Your Life
Birthstones are thought to have an influence on someone's life by enhancing their individual qualities and promoting their emotional well-being as well as protecting them against negative energy.
Whether worn as jewellery or used in meditation or energy healing practices, birthstones are thought to have the ability to align with an individual's birth month and bring about positive change in their life.
Why not reach out to one of our talented psychic readers?
Psychic Sofa's professional and experienced psychic readers can offer you further guidance on how birthstone crystals can influence your life for the better.
The History of Birthstone Crystals
Birthstone crystals date back to Biblical times when the twelve jewels represented the twelve sons of Israel. In time, these crystal jewels became associated with the twelve months of the year. In 1912, the modern list of birthstones we have today was officially established by the American National Association of Jewelers.
Despite this, different civilizations and cultures throughout history have developed their own variations of birthstones. These tended to be based on astrological, or mythological significance.
One example of this was the ancient Hindus, who based their birthstones on astrology. Another example was the ancient Egyptians who believed that gemstones held protective powers and used them in amulets.
How to Incorporate Birthstones into Your Life
Wearing your Birthstone can connect you closer to your inner self. It is thought that by wearing your birthstone as jewellery you will be delivered with good luck, good health, and protection against bad energies.
By wearing a birthstone that aligns with your birth month you can bring about personal growth and self-awareness.
For many years, wearing birthstones as jewellery has been a popular tradition among many different cultures.
Birthstone crystals bring individual significance and meaning to your jewellery collection. On top of this, they bring a multitude of benefits for your well-being.
What are the types of birthstone jewellery?
You can get birthstones on practically all jewellery types, such as necklaces, rings, charms, earrings and bracelets. It is up to the individual to choose which type of jewellery to wear.
Choosing a piece of jewellery that incorporates somebody's birthstone is the perfect way to find a personal and meaningful piece of jewellery for a loved one. When choosing birthstone jewellery, you should take the recipient's personal taste into account.
How to care for birthstone jewellery?
It is useful to know how to properly care for each piece of birthstone jewellery because different gemstones require different cleaning and maintenance methods.
Cleaning tip: In general, for gentle cleaning of the birthstone, you should use a soft, lint-free cloth and mild soap to gently clean your jewellery piece. This will assist in removing any dirt or oils.
Remember to always research specific birthstone cleaning techniques before doing so.
How Can Birthstones Impact Your Life?
Birthstone crystals provide healing and metaphysical properties that can help you create a strong connection with your inner self.
Each individual birthstone has a unique healing property that can be used to cleanse, purify and ignite the aura of the individual.
The natural energy found in birthstones can assist with easing anxieties, boost confidence, and even assist in solidifying relationships.
Meditation with your birthstone crystal is a significant tool for stress relief and relaxation. By meditating with your birthstone in your hand or placed on your chosen chakra, you can tap into the birthstone's unique properties and use these properties to promote a sense of balance in your life.
Another way to use your birthstone is to combine it with other crystals to help amplify its energy and create a more powerful effect.
Discuss the Potential Power of Birthstone Crystals with a Psychic Today
If you're keen to gain a deeper insight into the world of birthstone crystals and how they can impact your life, then reach out to one of our talented psychic readers.
With over 25 years of experience and a friendly team, Psychic Sofa can provide the psychic guidance you need to learn more deeply about birthstone crystals.
Speak with a psychic reader today.
Comments
No comments have been made yet
Create a Psychic Sofa account today!
Join the Psychic Sofa Community Today and get access to:
Get notified by (FREE) SMS text when a reader becomes available!
Latest offers and members only exclusives
Add favourite readers to your profile